Visiting Monet's Garden in Giverny: The Best Tips For Visiting
If you're looking for day trips from Paris, we highly recommend visiting Monet's Garden. Located in Giverny, where Monet lived and died, it's a must-see attraction.
The garden is spectacular all year round, but it looks especially beautiful during July - August when the water lilies are in full bloom.
To make the most of your visit, follow our helpful tips for visiting one of the most cherished gardens in Normandy and France.
Bookings: Some of the links in this article are affiliate links. This means that if you choose to make a booking, we will receive a small commission at no extra cost to you. Thank You!
Top tips for visiting Monet's Garden
‌Visiting Monet's Garden and House was a standout attraction during our trip to Normandy. So here are our top recommendations on how to make the most of your visit, so you can have as great of an experience as we did.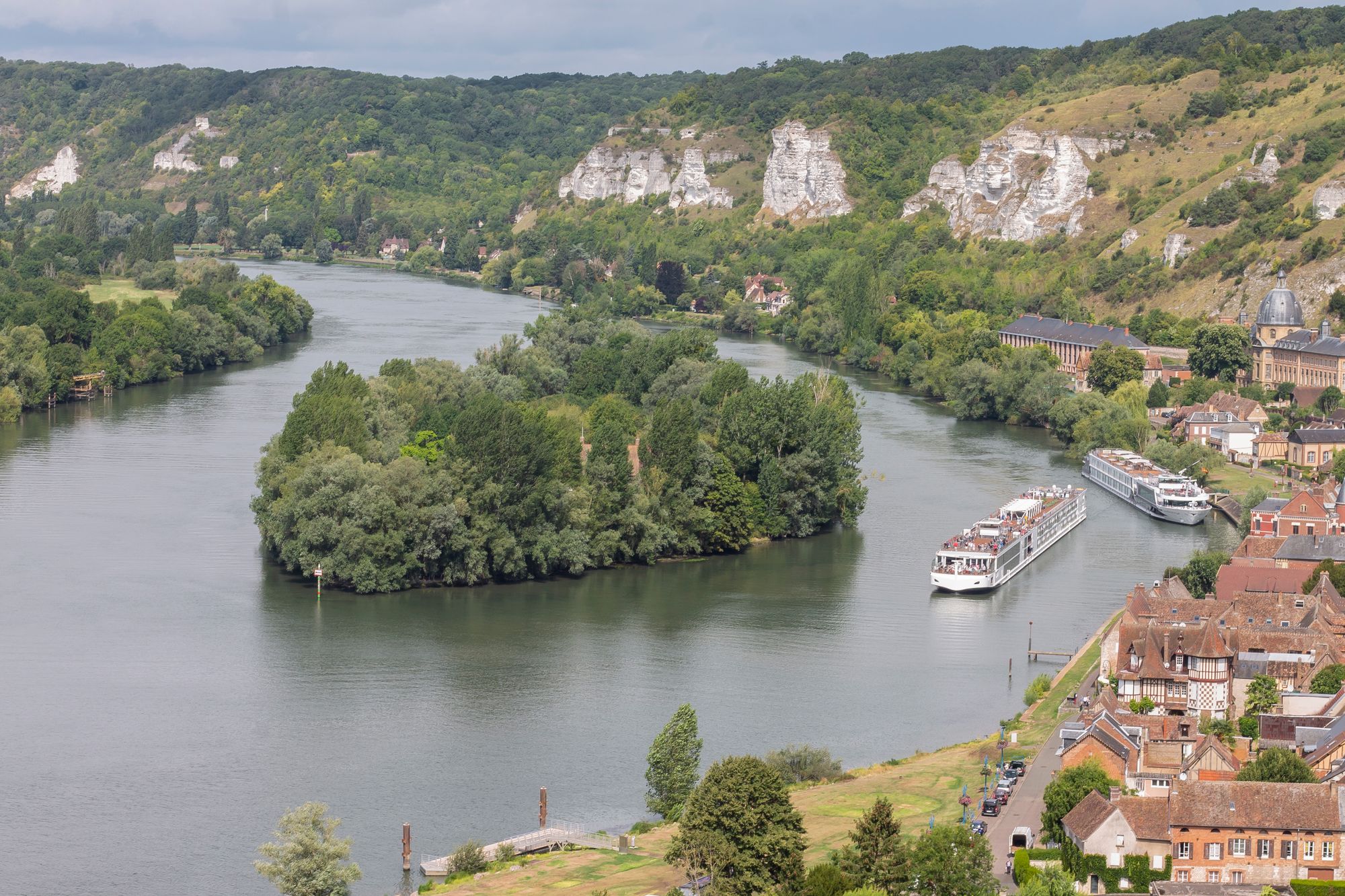 Arrive at Giverny the night before
Monet's Garden and House is Normandy's second most popular tourist site and can get crowded during the day. To avoid crowds and enjoy your visit to the fullest, we recommend staying in or around the charming town of Giverny the night before.
During the day, you can explore art galleries, including the Musée des Impressionnismes Giverny (Museum of Impressionism), and enjoy various cafes and restaurants in the village.
In the early evening, after most visitors have left, it is the perfect time for a peaceful walk along Rue Claude Monet, the street named in honour of the painter.
Some restaurants are open late if you fancy a glass of delightful French wine. Additionally, check out the queueing spot before retiring for the night so you know where to go in the morning.
While in Giverny, make a note to visit the Église Sainte-Radegonde de Giverny church and the small cemetery. It's the final resting place of Claude Monet and his family. The family gravestone is the third one from the right, marked by a white cross on a tomb.
Here you'll also find a memorial to seven British airmen among the other older tombstones. Unfortunately, their plane was shot down and crashed near River Seine, killing the entire crew the day after D-Day.
Top Tip: If you're travelling through Normandy in a campervan or van conversion, you can park at a spacious Aire across the road from the garden. This spot is perfect for exploring Giverny in the afternoon after the famous garden has closed. It's busy during the day but becomes peaceful in the evening.
Otherwise, follow the link or use the search box below to find hotels in Giverny:
Visit outside the season
Monet Garden is busiest during the springtime, particularly in May and summertime. But you can avoid large crowds by planning your visit outside peak season. We went in late August and found it lively but less crowded.
For a peaceful experience, it's best to arrive at the attraction as early as possible if you're staying near Giverny. We always find morning visits more enjoyable at most tourist spots.
To avoid inconvenience, it's a good idea to check the opening hours and queue situation before the ticket booth opens. Even better, you can bypass the queue and maximise your day with a skip-the-line ticket.
If you're wondering how long to allocate for Monet's Gardens, plan for at least two hours to explore the house and gardens - there's a lot to see.
Book a guided tour
To save yourself from long lines, getting a skip-the-line ticket ahead of time is a good idea. This way, you'll have a much smoother day and a knowledgeable guide to lead you through Giverny Monet's Garden and House.
Otherwise, tickets cost €12-€13 per person, depending on which website you choose to use. You can easily book your Monet's garden tickets online through the Giverny official website or the Foundation Claude Monet site.
If you're visiting France on a tight schedule and prefer to avoid driving or taking the train, a Versailles and Monet Garden day trip from Paris is a delightful option.
Pop into Vernon on the way to Giverny
As you make your way towards Giverny, you will come across the town of Vernon. It's worth stopping by to explore one of Monet's beloved spots in the vicinity if you have spare time.
The quaint town boasts numerous beautiful attractions, such as the restored mediaeval Old Mill perched above the Seine River. This building suffered damage during WWII but has since been restored by the locals.
The mill has piqued the interest of many artists, including Monet, who completed his painting "Houses on the Old Bridge at Vernon" in 1883.
Stop at Château Gaillard
Located near Giverny, Les Andelys is another charming destination worth visiting. It's best known for the magnificent hilltop Château Gaillard, which offers breathtaking views of the French countryside and Petit-Andeleys.
The castle, built in 1196 by Richard the Lionheart, Duke of Normandy and King of England, is surrounded by a moat and remains an impressive fortress to explore today. It's a lovely spot for photos!
Skip toll roads in France if you're on a budget
Travelling from Paris to Monet's Garden in Giverny by car is easy, but using toll roads may be expensive in France. We recommend taking non-tall routes. It may take a few extra minutes, but it will save you money.
Simply use Google Maps navigation to set your best route, like so:
Set the route: Paris to Giverny
Click Route Options
Check the box "Avoid toll roads."
How to Get to Monet's Garden from Paris
If you plan to visit Monet's Garden from Paris, there are a few options available to you. You can drive, take a train from Paris to Giverny, or book a tour.
Road: Paris to Giverny
Driving from Paris to Giverny is the quickest option and takes just over an hour. Leaving early enough, you can also visit Vernon and Chateau Gaillard's ruins.
Taking the direct route via the A13 incurs a toll of around €19. However, if you're on a tight budget, you can easily avoid toll roads and take a slower journey from Paris to Giverny.
Train: Monet's Garden from Paris
If you prefer to take the train, getting to Monet's Garden from Paris is easy. Trains for Le Havre (via Rouen) leave Saint Lazare train station in Paris and take just 46 minutes to arrive at Vernon. A single ticket costs €9.
Once you arrive at Vernon, you can catch a shuttle bus to Giverny, grab a cab, or walk. Walking to Giverny can take up to an hour, depending on your fitness level.
Taxis are available at the train station for €20 onwards per journey, or you could try Uber, which is much cheaper. Shuttle buses cost €5 for a single trip or €10 for a round-trip ticket.
Organised tour: an easy option
Booking a tour will take care of transportation and garden tickets. There are many options, from full-day trips to combined Versailles and Monet's Garden tours.
The Monet House and Garden experience
Claude Monet, the founder of Impressionism, was a rebellious artist who chose not to attend the École des Beaux-Arts and instead learned from advanced artists he socialised with.
Meeting Eugene Boudin was a turning point in Monet's career, as Boudin introduced him to the unique form of painting in the open air that Monet would use throughout his life.
From 1886 to 1914, Monet's spontaneous painting style greatly influenced American artists in Giverny, who introduced Impressionism to American art.
Although Monet travelled to Algeria, Morocco, and London, his biggest inspiration came from his home in Giverny, where he moved with his family in 1883.
Monet purchased a piece of marshland across from his home in 1893, which he transformed into the world-famous water lily pond and garden that fuelled his impressionist vision for 30 years, inspiring his last series of 250 oil paintings – Water Lilies.
During WWII, both the garden and the house suffered severe damage, but they were successfully restored thanks to generous donations, mainly from the USA.
Inside Monet's House
As you ascend the creaky staircase, you will notice that the house gives off a genuine vibe despite being a replica.
The "little blue sitting room" and the studio may feel cramped due to the crowd admiring the paintings and taking pictures. You can almost envision the bustling atmosphere of the house when the whole family was present, with its eight children. The dim lighting protects the art and adds to the room's ambience.
Monet's bedroom, with its large window overlooking the roses in his garden, is a popular photo spot. The walls display replicas of paintings by Monet himself and other renowned painters like Renoir.
The bright and contemporary yellow dining room and kitchen are tasteful and well-decorated. The walls are adorned with beautiful blue Rouen tiles, and copper pots and pans of various sizes hang from the walls. A sizeable cooker occupies the corner, and a large table sits in the middle of the room.
Exiting through the kitchen door, you will find yourself in the garden, which is as lively as the house. Take your time and enjoy the vibrant surroundings at your own pace.
Exploring the two gardens: Clos Normand and the Water Garden
You'll step into Clos Normand, the central flower garden in front of Monet's house, right from his kitchen. Monet's clever gardening legacy is showcased in the variety of seasonal flowers found in the garden, making it an exciting visit all year round.
If you time your visit right, you can witness specific plants and flowers blooming. Spring is the perfect time to visit, as tulips, forget-me-nots, and daffodils bloom in April.
May brings clusters of pink rhododendrons and violet wisteria hanging over the famous bridge. July marks the beginning of waterlilies, and August is the last month to see them in full colour.
We were lucky enough to find the garden full of delicate roses during our late August visit. After passing through a tunnel, you'll find the water garden and the famous Japanese bridge across the road from Clos Normand.
While the Japanese bridge is a replica, Monet himself planted the rustling wisteria above it. The banks of the lily pond are shaded with beautiful willow trees and bamboo, where you can find the legendary nymphéa, also known as a water lily.
Is Monet's Garden worth visiting?
Absolutely! This stunning destination, located in the charming town of Giverny, is an absolute must-see if you're touring Normandy or looking for the perfect day trip from Paris.
As the inspiration for many of Monet's most famous works, including his iconic Water Lilies series, the garden is a true masterpiece in its own right.
Thanks to its close proximity to Paris, meticulous maintenance and wonderful array of flowers and greenery, it's no wonder that Monet's Garden is one of the most popular destinations in France.