If you are thinking of the best day trips from Barcelona, Montserrat in Spain is your answer. The multi-peaked mountain with the famous monastery perched at the top is one of the places you'll regret missing on your visit to glorious Catalonia.
From the Abbey of Montserrat to museums and exciting hiking trails, there's something for everyone. You can have a day of extreme hiking or a laid-back sightseeing afternoon. Or even better, combine the two into one spectacular day you'll never forget.
To help you have the best experience, we'll cover topics such as the best way to get to Montserrat from Barcelona and the many sites you can explore.
We've also broken down the most confusing part of the trip – buying Montserrat (Spain) tickets – into easy-to-understand chunks.
If you, however, don't want any hassle and would prefer your day or half-day trip to be arranged from start to finish, there are options too. Check out the excellent Barcelona to Montserrat tour options available via our trusted partner, GetYourGuide.
Bookings: Some of the links in this article are affiliate links. This means that if you choose to make a booking, we will receive a small commission at no extra cost to you. Thank You!
Barcelona to Montserrat: How to Get there?
The glorious peaks of Montserrat are located around 30 miles (48 km) northwest of Barcelona and have good transport links.
Below we've summarised the best options for you to get to Montserrat from Barcelona. Here goes:
Getting to Montserrat by car. Driving is the quickest way to access the monastery; the road to Montserrat is straightforward. Plus, it's easy to rent a car in Barcelona.
You can park your car free of charge at the Monistrol Vila parking lot, and off you go exploring. Conveniently, here you can also buy your rack railway ticket for Montserrat.
Getting to Montserrat by train. Getting to Montserrat by railway is one of the most popular and hassle-free options.
Trains leave every hour from Plaça d'España rail station. Once you've purchased your tickets for access to Montserrat, look for Line R5 and jump on the train going towards Manresa.
Getting to Montserrat by bus. If the train and car journey is not an option, you can always get yourself to the peaks of Montserrat by bus. Regular buses run from Street Viriato right next to Sants Estacio train station in Barcelona.
How Long Does it Take to Get to Montserrat?
The overall journey from Barcelona to Montserrat can take from 1.5 up to 2 hours, including waiting time at the cable car station.
As with many things travel, timing is everything.
But it's even more crucial when you embark on a one-day journey to a bustling place like Spanish Montserrat mountain. If you leave it too late, you'll have to miss out on things because of lengthy queues.
We suggest you take the earliest possible train from Plaça d'España station in the city centre. Trains run every hour with the first train leaving at 8.36 am.
Driving should take you around 30 minutes depending on the traffic.
Top Tip: Check the weather forecast before leaving. If it's going to be an insanely hot day ahead of you, do the walks first thing in the morning. Then carry on visiting the Abbey and the museums to hide from the sizzling hot sun.
Montserrat tickets: what's the best option for you?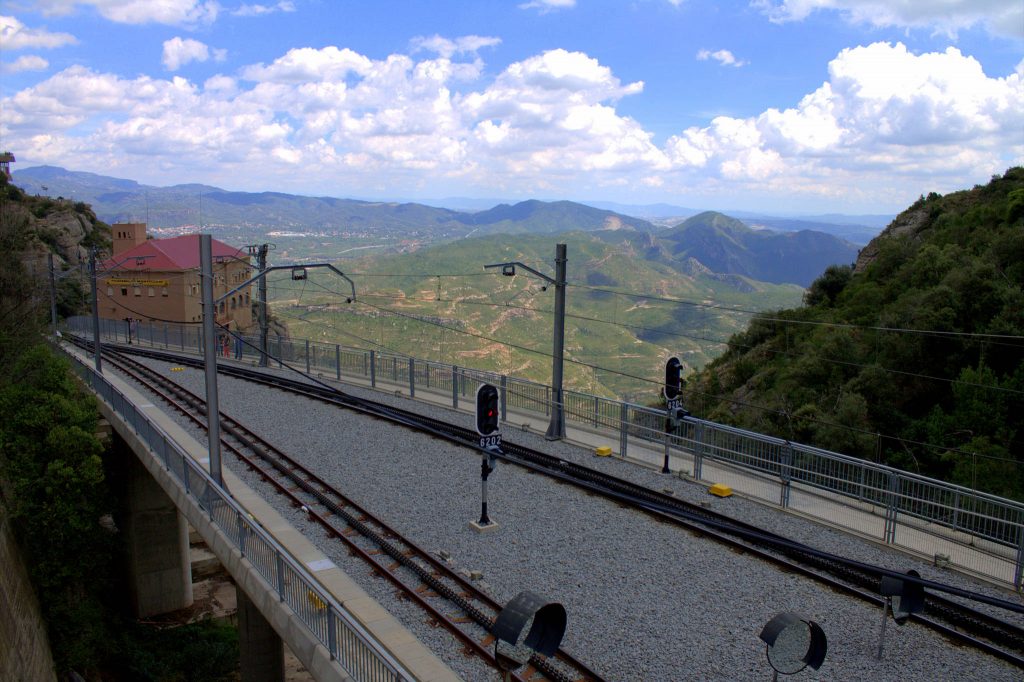 We don't want to sound like a broken record, but it' all about time-saving when planning your trip to Montserrat. Therefore, don't waste it by queuing at the ticket office.
Get your tickets at the ticket machines.
They do look a little scary with all the options available but don't let them intimidate you. Step away for a moment and think.
What's the best way for you to get to the top of the mountain, by cable or rack railway?
Both the cable car (Aeri de Montserrat) and rack railway (Cremallera de Montserrat) will take you on a spectacular journey across the valley. Only you can decide which option is best for you.
TOP TIP: If you fear heights, you will want to get to Montserrat via the funicular railway (rack railway) rather than the cable car. Also, take the railway if you are running late as taking the cable can tale a lot of time with only two cars running.
You have three combined ticket options:
Trans Montserrat Ticket - 3 in 1, a great option for getting to and around Montserrat
TOT Montserrat Ticket - a full Montserrat experience + meal
Montserrat Express Ticket - includes a return trip to Montserrat from Barcelona + goodie bag
We recommend purchasing the Trans Montserrat ticket at €35.30 per adult (although the site also states €31.60 - you see, confusing!).
The great thing about the Trans Montserrat ticket is that you get access to the two main funiculars atop the Montserrat mountain - Funicular de Sant Joan and Funicular de Santa Cova. Otherwise, you'll have to purchase tickets for both separately.
This combined Montserrat ticket includes:
Round trip train journey: Barcelona - Montserrat - Barcelona
Round trip cable car/rack railway journey: Barcelona - Montserrat - Barcelona
Unlimited funicular journeys in Montserrat
Entrance to the audiovisual exhibit "Montserrat behind closed doors
Now, TOT Montserrat ticket sounds good too because it includes a meal at a self-service restaurant in Montserrat, but it's costly at over €50.95 per person.
Further down this post, we'll talk about saving pennies on food. Keep on reading.
Easy Transfer to Montserrat from Barcelona
Alternatively, you can catch a comfortable and air-conditioned bus and arrive at Montserrat before the crowds.
With this round-trip transfer, you'll also have access to the Basilica of Montserrat Monastery included in your booking so you'll get to enjoy it in peace and quiet. This is a big plus.
We waited for over an hour to see the Black Madonna and waiting is exactly what you don't want to be doing in Montserrat. Especially if you only have a half-day here.
Follow the link to see if this Barcelona to Montserrat Transfer could be a good option for you.
Where is the Cable Car/Rack Railway in Montserrat?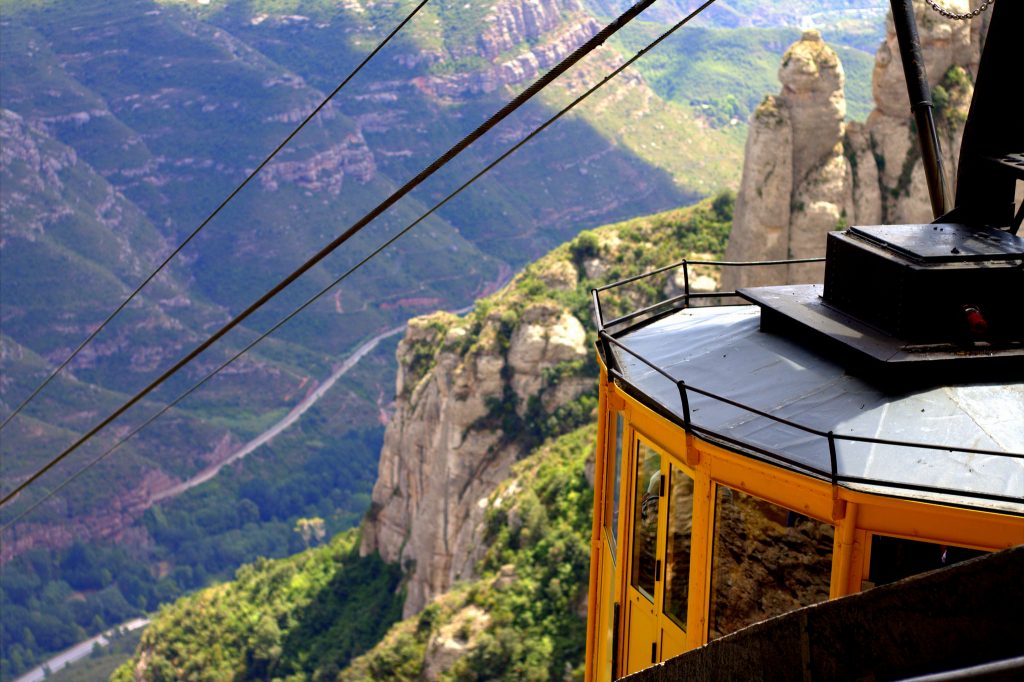 The train from Barcelona will drop you off at the bottom of the mountain at Montserrat AERI station. And just around the corner, a two-minute walk at the most, you'll find the cable car station.
The Aeri de Montserrat is a little dated and quite small, but the journey is spectacular. It only takes approx. 5 minutes to get to the top of the mountain, but the queues for catching the cable car can be very lengthy, especially during holidays. It can quickly take up to 40 minutes before you can board the car.
Top Tip: Sit at the rear of the train, so you are closer to the exit when you reach the station for the cable car. This will put you towards the front of the queue as long as you head straight to the cable car station from the train.
If you decide to take the Cremallera de Montserrat, get off at Monistrol de Montserrat, one stop after Montserrat AERI. From here, get on the Cremallera de Montserrat which will take you all the way to Montserrat, easy. In this instance, the overall journey from Barcelona to Montserrat will take 90 minutes.
If all the above sounds like a plan, let's have a quick look at what's waiting for you atop the iconic peaks of Montserrat.
Visit the Monumental Santa Maria de Montserrat Abbey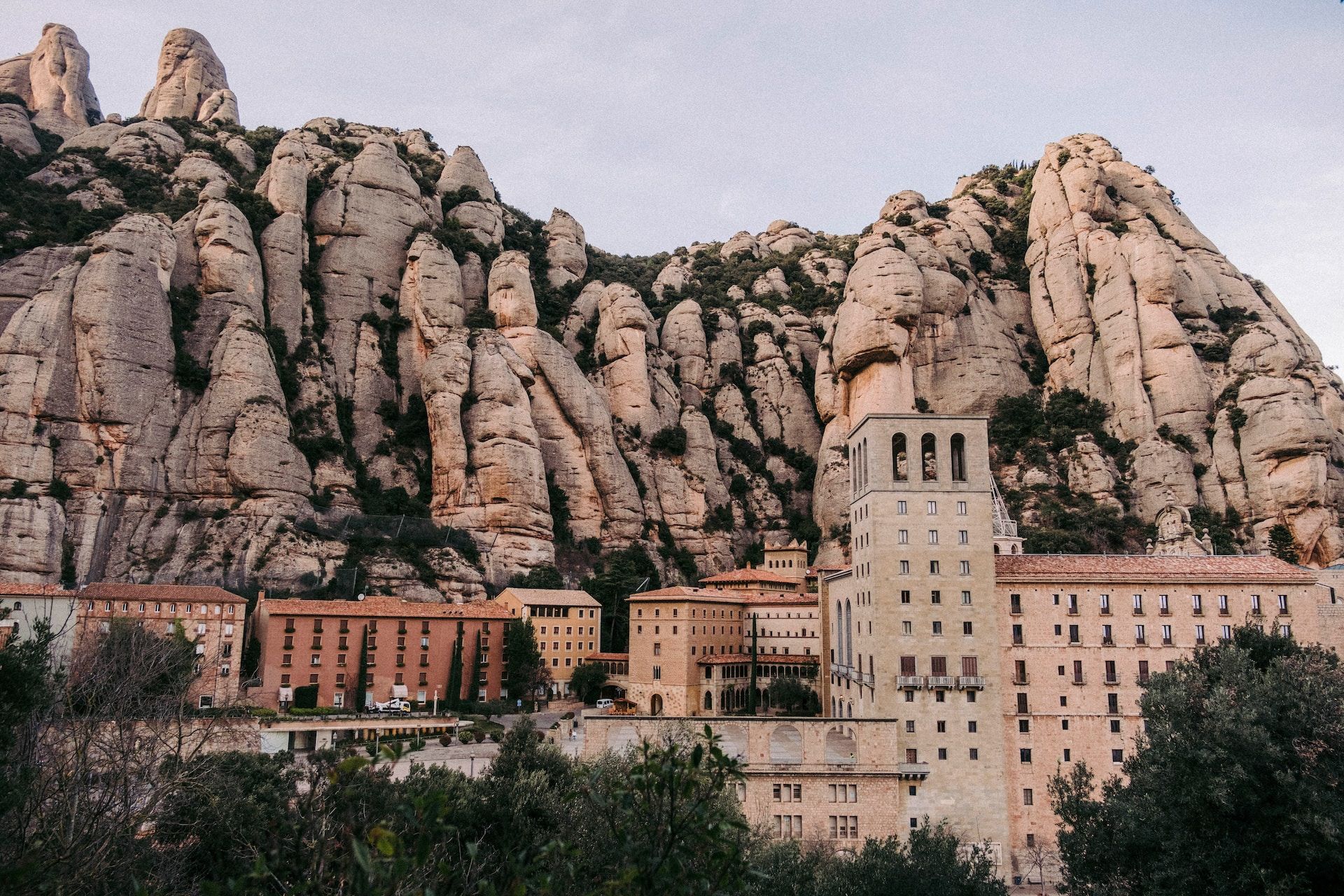 Montserrat in Spain is renowned for its dazzling Benedictine Abbey. And regardless of your religious beliefs, visiting the sanctuary will be one of the many memorable experiences of your day trip. It is one of the most prominent sites to visit in Montserrat.
For centuries pilgrims have been making their way to worship the sacred Black Virgin of Montserrat. And till this day, every movement at this spiritual Montserrat mountain revolves around the patroness of Catalonia, otherwise known as the Black Virgin.
If your visit is focused on pilgrimage, head straight to the Benedictine Abbey to catch a glimpse of the Black Virgin of Montserrat. Also referred to as the Black Madonna, the Romanesque statue has a monumental significance in Montserrat.
It's believed that this world-renowned wooden icon was carved in Jerusalem around 50 AD. It is also said that the entire Montserrat complex is built up around it.
Top Tip: Arrive as early as possible to avoid queues, otherwise prepare to wait for up to an hour or even longer before you get to kiss La Morenetta's hand.
Once you've explored Santa Maria de Montserrat, exit via the Cami de l'Ave Maria – the Ave Maria Way – for a candle-lit walk through the barrel vault tunnel. It's a magical passageway filled with flickering votives, and rosary litanies pressed into iron. Each flame in this tunnel is a special prayer to Saint Mary.
And if you too would like to join the crowd and say a prayer for your family and friends, you can do so by buying a candle.
Get Early Access to the Basilica of the Montserrat Monastery
Another top tip from us is to put yourself in front of the queue by buying tickets in advance. You can get your tickets online at no additional cost to you and get access to the Basilica of the Montserrat Monastery, the museum and the audiovisual room. Easy and convenient.
The Basilica opening times: 7.30 am – 8 pm
Throne of Our Lady visiting hours: 8 am – 10.30 am and from 12 pm – 6.15 pm. During the summertime (mid-Jul – end Sept) the Abbey is open from 7.30 pm – 8 pm.
Marvel at Caravaggio in Montserrat Museum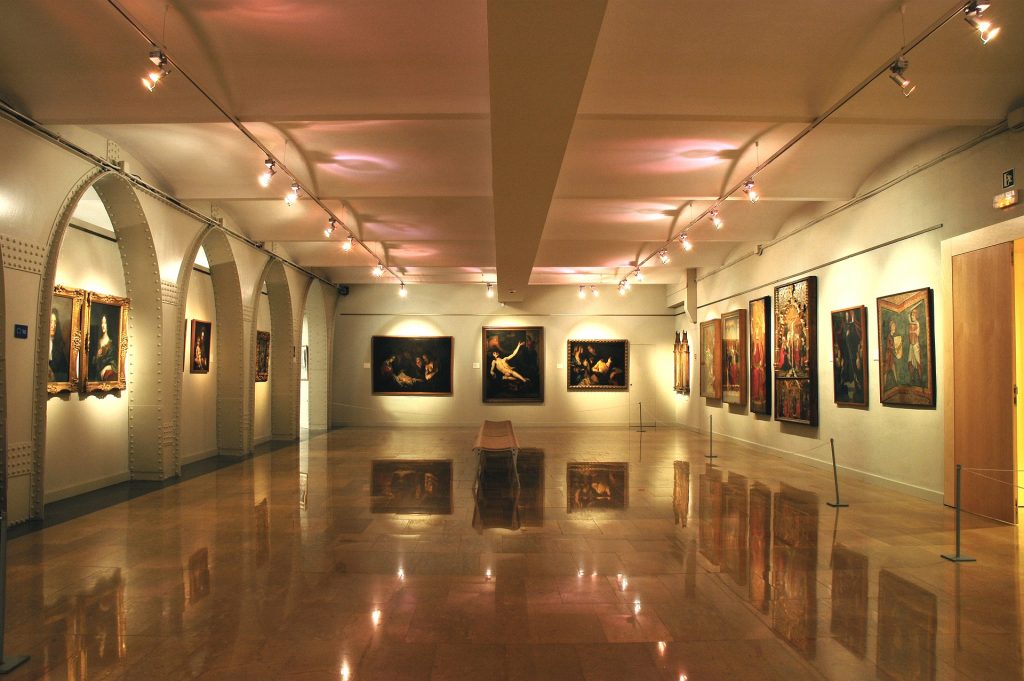 If you are a history buff, head to the delightful Montserrat Museum in Santa Maria Square. It houses six permanent collections of more than 1,300 relics together with temporary displays.
Every room, supported by impressive iron structures, has a series of objects representing the theme of the room. Here you'll find a goldsmithing section, sculptures, modern art and even 13th-century-old paintings.
To indulge in artwork by some of the most influential painters, starting with the work by Caravaggio, an Italian painter whose paintings are displayed all over the world.
By the way, one of the paintings personally signed by Caravaggio dominates the Co-Cathedral of St. John in Valletta, the capital of Malta.
The museum is open from 10 am – 5.45 pm on weekdays and 10 am – 6.45 pm on weekends.
Discover the Delightful 11th-Century Romanesque Church
If you are interested in architectural heritage, in the shadow of the magnificent Montserrat peaks, sits Santa Cecilia de Montserrat. A church dedicated to Santa Cecília, the patron of music.
The nave of this 11th Century church overlooking the Marganell River Valley, houses art pieces, stained glass, and beautiful frescos. A perfect space to escape the hustle.
Recently rebuilt, Santa Cecilia de Montserrat is one of the most outstanding examples of Romanesque architecture in the region.
Santa Cecilia de Montserrat opening times: 10 am – 2 pm and 3 pm – 6 pm.Note that the church is open during weekends only in July and daily (except Mondays) in August.
Arrange a Visit to the Beautiful Montserrat Library
If historical libraries spark a sense of wonder in you, then you shouldn't miss the exquisite Montserrat Library. Before 1811, the library held a diverse collection of thousands of manuscripts which, sadly, were destroyed during the Napoleonic Wars.
However, today's library, which was founded in the 19th-century, amassed an astonishing assortment of volumes. Mostly philosophy, theology, Bible studies, music and art history, medieval and European history, as well as works devoted to local history and the Spanish Civil War. Plus, a collection of 500 ancient maps!
Montserrat Library opening times: 9.15 am – 2 pm and 3.30 pm – 5 pm. You will need to arrange access before your arrival.
But there's more to Montserrat in Spain than just religious and cultural explorations. If you start your day early and arrive at Montserrat from Barcelona in the morning, you'll get to see beautiful panoramic views of Catalonia.
Hiking in Montserrat: Trails and Outdoor Sights
At 1,236 meters high, the panoramic views across Catalonia from the stunning rock formations are breath-taking.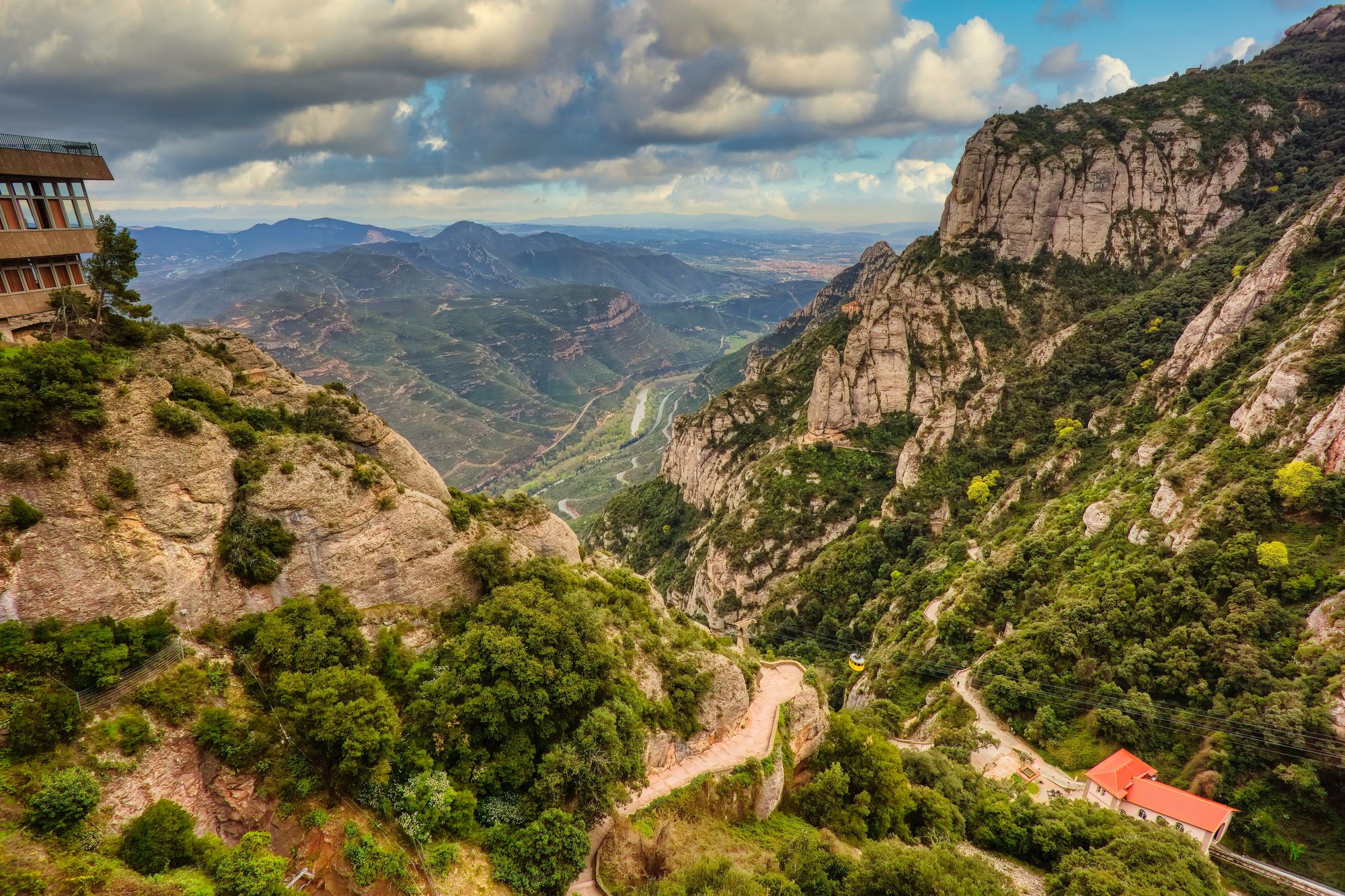 Hike All the Way to Sant Joan Chapel
Start exploring by taking a trail leading to Sant Joan Chapel. There is a slight climb up a 100-meter-high hill, but the climb is effortless and will set pace nicely for the rest of the walks.
As you pass the chapel and keep ascending the slope, look back to check out the incredible rock formation sticking out behind you.
To reach the trail, take the Sant Joan funicular railway and follow the signs pointing towards the path.
Follow the Breathtaking Sant Jeroni Trek
At 1,236 m, Sant Jeroni is the highest point of Montserrat. The easiest way to reach the first base of the mountain is to take the vertical Sant Joan funicular railway up.
But hold on tight, the railway is insanely vertical! Once at the top, take the marked path on the right-hand side of the station.
It's a 2.5-hour trek if you use the funicular railway. Otherwise, get ready for approximately 3.5 hours if you are hiking all the way up, depending on your fitness level.
Our friends over at The Whole World or Nothing have great hiking in Montserrat guide. We hope you'll find it helpful.
Otherwise, if you are not keen on organising your own hiking trip in Montserrat, check out these hiking tours and leave the crowds behind:
Explore One of the Most Fascinating Areas in Montserrat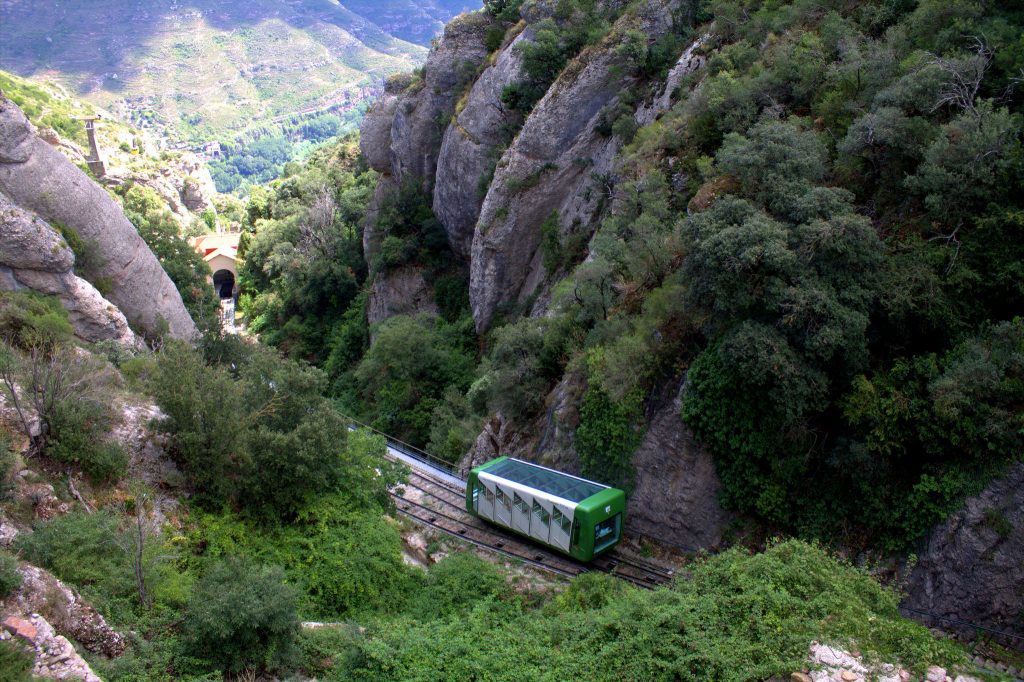 Outdoors lovers and Gaudi fans, you are in for a treat. The Santa Cova funicular railway will take you down to feast your eyes on stunning modern Catalan sculptures by Antonio Gaudi among other famous artists.
Apart from the significant monuments, the journey down to the Rosary Monumental itself is a sight to behold! This scenic winding ride will take your breath away presenting you with even more panoramic views, which, as we learned, you are never short of in Montserrat!
The zone holds not only cultural but also a religious value to this place of pilgrimage. The statue of the Black Virgin is believed to have been rediscovered in 880 AD, in the nearby Santa Cova Holy Grotto.
To the right of the altar, you will find a copy of the original image that is now safely guarded inside the Montserrat Basilica.
Pilgrims have been making their way down to the Chapel of the Holy Grotto Since 1929. Therefore, staying respectful is crucial when exploring the site.
The cave is open all the time and can be easily reached by either walking from the Monastery or by catching one of the funicular railways. However, it's worth noting that the train doesn't go all the down to Santa Cova.
The Funicular de Santa Cova will get you down the mountain and drop you off at a spot from where you will be able to take a paved walking path. Be prepared for approx. 1-hour walk.
What to Wear When Visiting Montserrat
In all honesty, anything that makes you feel comfortable. Remember that during the summer, it can get pretty hot so make sure your skin is well protected from the sun.
Even though the trails are easily walkable, and you will most likely get a funicular railway to get to the start of the trails, we recommend wearing comfortable footwear for travel. It will allow you to enjoy the walks and the climb to the highest peak of Montserrat without issues.
Ladies, if you love wearing dresses, please do so, it will keep you cool in the heat. However, you should cover your shoulders when entering the Abbey.
How to Save on Food in Montserrat
If you are on a budget, our best advice is to pack some snacks to take with you. For example, pop into a local shop or bakery near your rented apartment and get ingredients for a tasty sandwich or a wrap.
You could also grab some fresh or dried fruit to keep you happy during the day.
Or, you could always pop into Barcelona's markets a day before. For instance, the capital of Catalonia has one of the best food markets in Europe - La Boqueria.
It's a hidden pot of wonderful smells and tastes that caters for everyone's taste. Plus, popping into the market will be one of the many great attractions while visiting Barcelona.
If you are not keen on packed lunches, then be prepared for high prices at Montserrat itself.
Quick Checklist for Your Epic Montserrat Day Trip
Look at this guide again and decide what sights you are going to see first.
Decide beforehand if you are taking a cable car or the rack railway. Your choice will determine your final stop before getting up the mountain.
Pack light, you are going on a day trip.
It might sound obvious, but have your bag packed and waiting for you the night before.
Pack some snacks with you, plenty of water, sunscreen and other essentials such as a hat.
Charge your camera and be sure to have enough space on your memory card. If possible, transfer yesterday's photos to the hard drive or laptop. There's nothing more heartbreaking than realising that you don't have enough space after you've composed that perfect shot.
Charge your phone and other gadgets.
Wear comfortable shoes.
Get up early to have enough time for a hearty breakfast. Arriving early to Montserrat is the only way to beat the crowds.
Check the weather forecast and follow our tips for choosing the order of the sights.
Check out the other great things to do in Montserrat below and have tons of fun!