It is easy to cross the Thailand border from Chiang Rai to Laos or vice versa in the far north of either country. We have just completed this border crossing after staying in Chiang Rai for a few nights and thought we would share the details for anyone looking to take the same route.
Overall it was hassle-free to cross but it is good to know what to expect and the fees involved.
Bookings: Some of the links in this article are affiliate links. This means that if you choose to make a booking, we will receive a small commission at no extra cost to you. Thank You!
Bus from Chiang Rai
From the provincial bus station in the centre of town take the bus heading to Chiang Khong. It will be the red bus and will leave at every 30 minutes past the hour.
At the time of writing the bus station was being rebuilt so the stops may move but if you ask around someone will point you in the right direction.
The journey takes around 2 hours and costs 70 THB per person (as of 2022), you pay the attendant onboard so just hop on and pick a good seat.
This is a local bus so no aircon, just open windows, and doors to cool you down but we found it comfortable even in the baking early afternoon sun. The real selling point seems to be a straight road but I'm not sure there's any other way to go!
Tell the driver or attendant that you want to go to the Laos border. This way they will drop you off by the roadside a few km before Chiang Khong and you can take a Tuk-tuk from here the few km to the Thai border. If you miss this stop and end up in the town you can get a Tuk-tuk from there for a few THB more.
At the roadside, the Tuk-tuk drivers had a sign stating the prices. 60 THB for 1 person and 50 THB each for 2 or more people. I saw a couple of guys trying to haggle but these prices seem pretty fixed. You could always try hitching a lift as the road only goes down to the border.
Top Tip: Use the superb 12GoAsia for your transport booking across Southeast Asia to save time and get the best deal. Search for tickets here...
Crossing the border from Chiang Rai to Laos
Arriving at the border on the Thai side building we presented our passports with departure cards and got stamped out of Thailand.
Next, we needed to get a ticket for the bus to cross the friendship bridge, this is a mandatory 20 THB per person.
The lady selling the bus tickets also offers to exchange your TBH for USD as it is generally cheaper to pay for a Laos visa in Dollars. I calculated that we saved around $5 to $10 each by doing this so it's good to carry some spare Dollars.
There's a sign stating that you cannot cycle or walk across the bridge so it's a road bridge only. Ironically there was a large group of cyclists crossing at the time and their bikes had to be wedged in between the bus seats when they could have just peddled over.
Personally, I found this a bit of a shame as I think there's something quite epic about walking out of one country and into the next, but I also didn't want to get arrested.
I'm not sure what timetable the buses run on but it left after we waited for around 10 minutes. The journey took about 3 minutes across the bridge to the building on the Laos side.
At the Laos border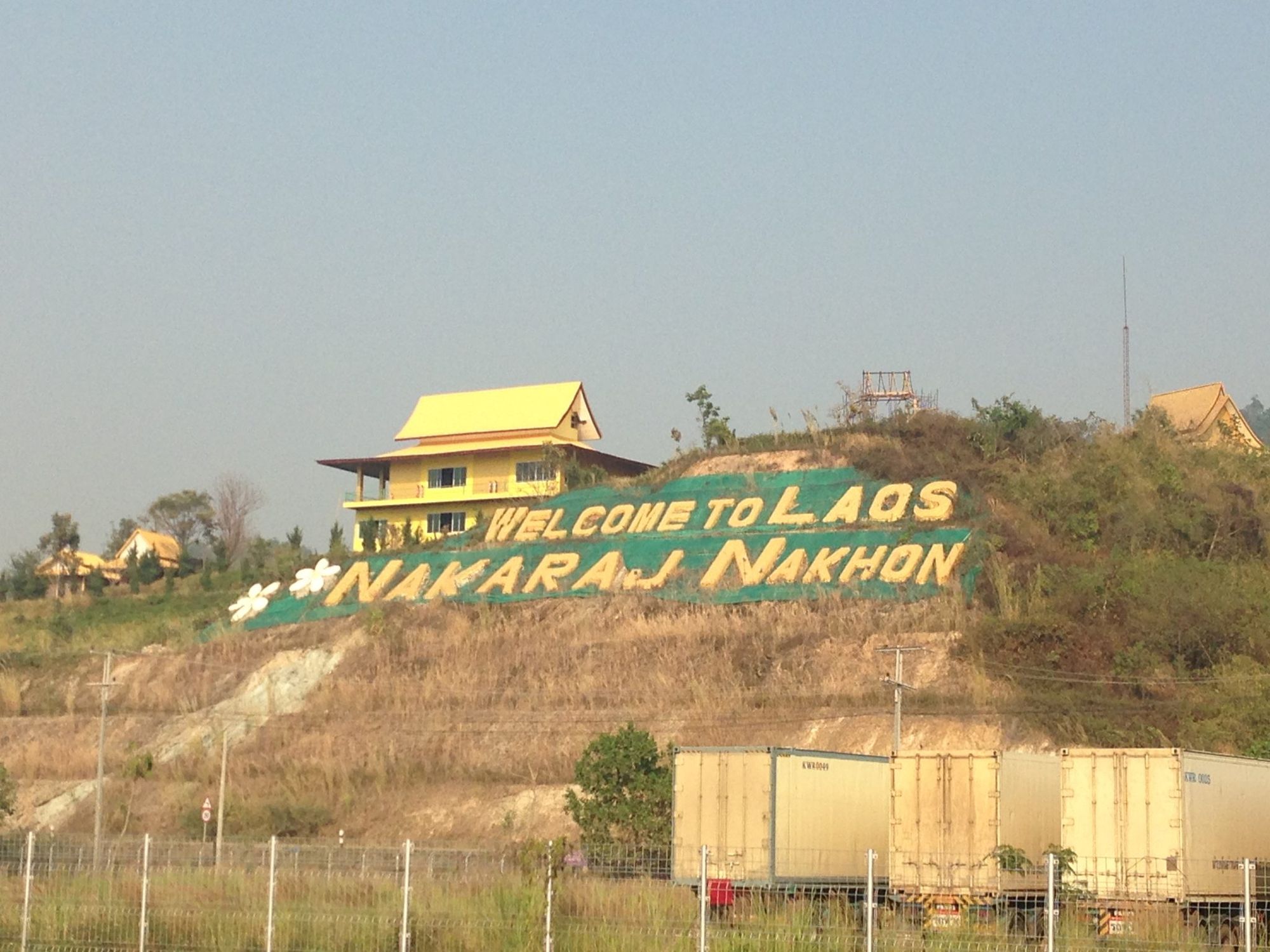 Next, we went to the Visa on Arrival window and got the necessary paperwork to fill in. There is a visa form and an arrival and departure card to fill out. You need to give a passport photo with the form or pay a little extra.
You hand all this in to the person at the right-hand window and line up to get your passport back at the left window once they have processed your visa. At the left window, you also pay the visa fee.
Kristina paid $30 as I'm not sure they knew where Lithuania was, We just kept smiling and saying 'EU', 'EU', and I had to stump up $35 as some kind of weird $5 being British tax!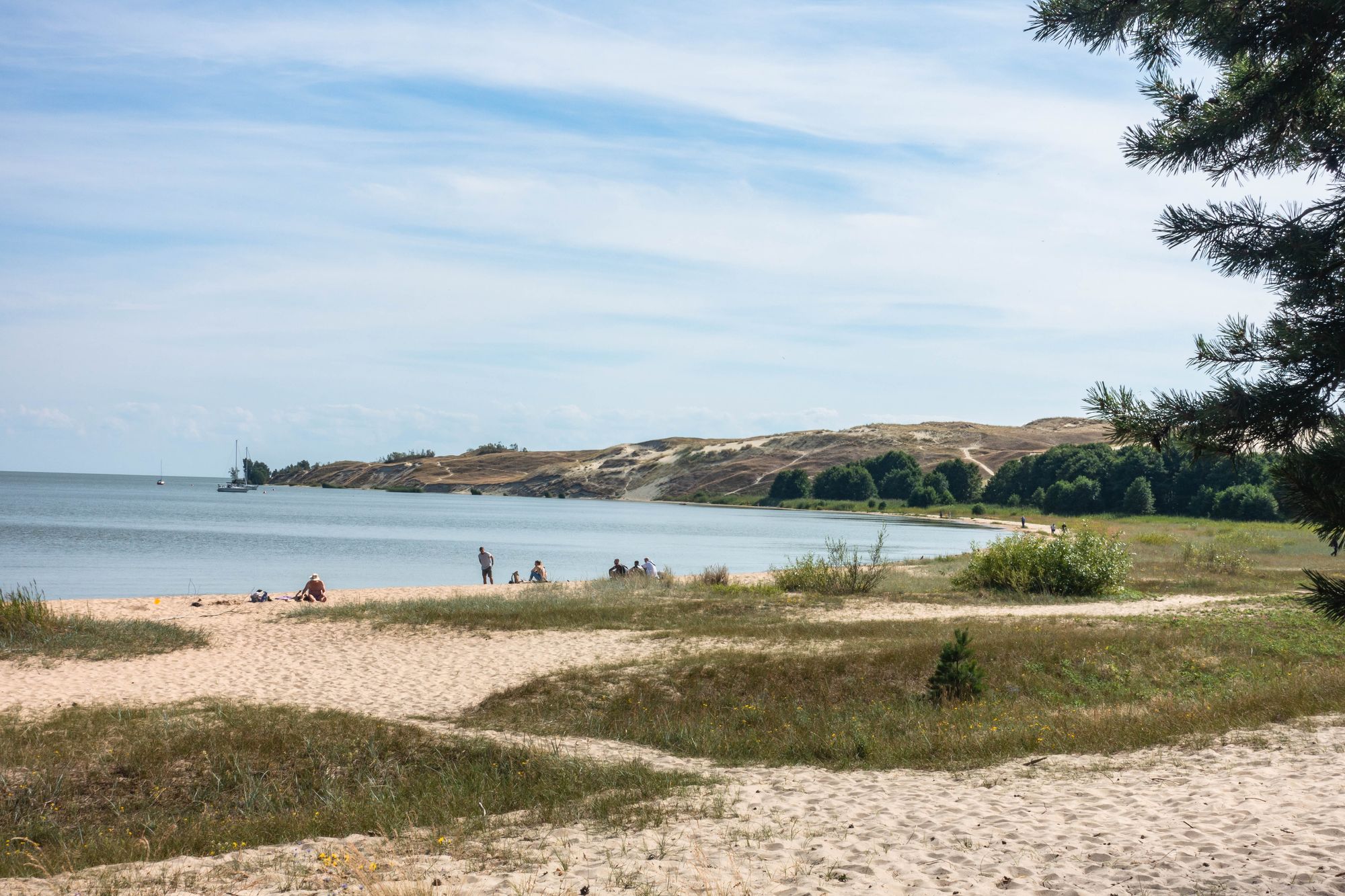 We did however avoid the lovely 'overtime fee' of an extra $1 which gets levied on you if crossing the border from Chiang Rai to Laos after 4 pm or at the weekend. We got our visas at 3.52 pm on a Wednesday, we know how to play the system!
It all went very smoothly though and with our Laos visas stuck in our passports, we walked through to the passport control booth. The chap here was more interested in playing Clash of the Clans on his phone than inspecting my shiny new visa and just waved me through.
So that's our journey from Chiang Rai to Laos, and there was a big sign to prove it!
Getting to Huay Xai from the border
So the last step was to get to the border town of Huay Xai in Laos. I'd done a little bit of research online and it was suggested that it should be 10,000 LAK (£0.90) for the ride into town but we paid 100 THB (£2) and they wouldn't accept any less.
A couple of chaps did walk off but no lower price was offered as a result and it was a 15 minute ride to the centre of Huay Xai in the heat.
We had to wait about 20 minutes for some more people to come through before they would leave as the previous Tuk tuk was full but we were in no hurry and just relaxed in the shade.
Top tips for the Chiang Rai to Laos border crossing
We left Chiang Rai on the 1pm bus and got to our accommodation in Huay Xai at before 5pm, including a 20 minute wait for the next Tuk tuk to go from the Laos border.
You can pay for the visa in LAK, THB or USD but it's cheaper in USD.
You'll need 1 passport photo of yourself for the Laos Visa or be prepared to pay more.
There's a $1 extra fee for 'overtime' after 4pm or at weekends and public holidays.
Don't forget to have a pen handy to fill out the visa forms.
There's a currency exchange point to convert your THB into LAK before and after the visa window on the Laos side, they close at 3pm daily.
The Tuk tuks on the Laos side will accept THB if you have no LAK.
There's a decent toilet block, snack bar, ATM and currency exchange on both sides of the bridge.
We travelled from Chiang Rai to Laos border in March 2016 and it was pretty quite at the border but I can imagine that it's much busier in the 'high season' so be prepared for lengthy waiting times.