Things to Do in Bilbao: Top 5 Picks for Your Next Trip to Spain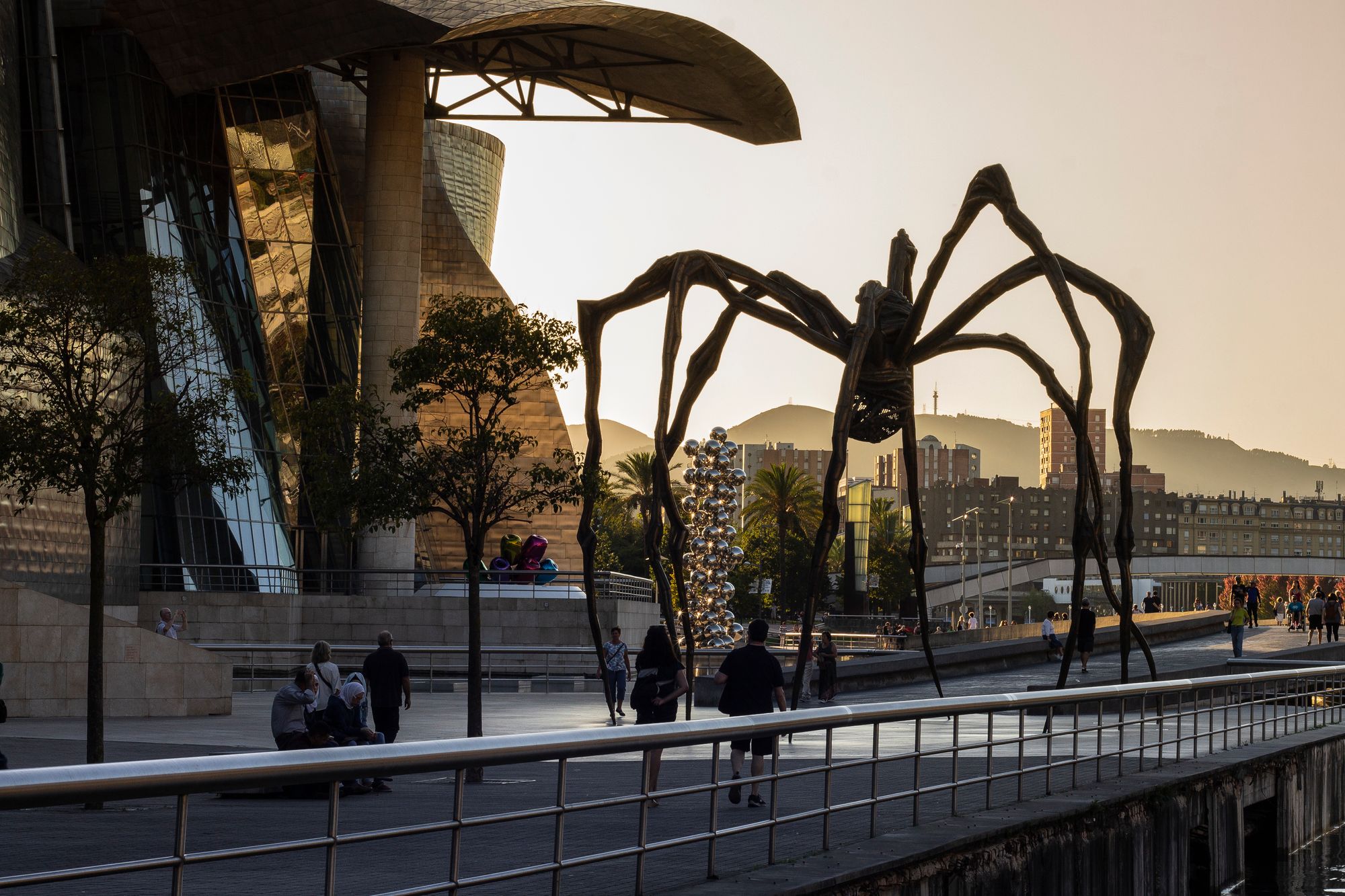 The largest city in the Basque Country, Bilbao is the kind of place that pulls you in slowly with its subtle charms and welcoming people.
This former industrial heavyweight of northern Spain has been reborn as a modern-day destination for lovers of fantastic foods and contemporary art amongst other things.
You will be surprised at the volume of things to do in Bilbao. Therefore, to help you ease your visit, we've included our top 5 picks.
The great range of places to stay, eat, drink, explore and party makes this compact city one which you won't want to miss on your next trip to Spain. So take some quality time to discover this little gem nestled in the far north of Spain with our Bilbao guide right here. Who knows, you might end up staying longer than you planned to!
Bookings: Some of the links in this article are affiliate links. This means that if you choose to make a booking, we will receive a small commission at no extra cost to you. Thank You!
Top 5 Things To Do in Bilbao
1. Eat and Drink in Bilbao
Basque culture practically revolves around food, so visitors to Bilbao are wonderfully spoilt for choice when it comes to top spots to eat and drink. Therefore, eating and drinking in the city should be at the top of your things to do in Bilbao list.
The key fixture of the local cuisine is Pintxos, similar to tapas, with the Basque version tending to be a little fancier than its Spanish counterpart. The name comes from the small cocktail sticks which lovingly hold the various creations together.
We're not sure you can find a bar anywhere in Bilbao which doesn't serve these bite-sized wonder snacks. They are designed as the perfect complement to a cool beer or delicious glass of Rioja and come in a variety of styles.
Most will feature some form of cheese, meat, fish or omelette which is usually on a bruschetta base.
Plaza Nueva is at the centre of the old quarter. It has a great selection of bars but can get a bit packed in the evenings and has a slightly touristy vibe. As an alternative head out into the surrounding narrow streets to seek out some potentially quieter spots.
We really liked Irrintzi which is nicknamed the 'pintxo tavern' and is the perfect place to sample this local speciality.
For a truly authentic local experience make sure you visit a 'Sidrería' whilst you are in the Basque Country. A set menu will usually consist of cod or omelette, followed by steak and finished off with Idiazábal cheese and nuts. Delicious.
The highlight of any meal here is the local Basque cider, hence the name, which projects from a tap in the wall. Diners line up with their drinking glasses at the ready and catch the cider in their chosen vessel as it shoots out from the said tap.
This method of serving is said to aerate the cider and give it increased flavour but at the very least is great fun. It does however become trickier to manage after you've had a few glasses!
We had a great time at the Asador Sidreria Arrigara in the Old Quarter and would highly recommend it. Just remember that no one eats early here and families were just sitting down to eat at 11 pm when we were leaving the restaurant!
2. Visit the Guggenheim Modern Art Museum
The massive shiny metallic exterior of the Guggenheim Museum is hard to miss and sits proudly on the riverbank in central Bilbao. Designed by Frank Gehry and opened in 1997 it is now one of the most iconic images of the city and well worth exploring.
Because the structure itself is such a showpiece from the outside it can feel slightly disappointing inside. We would say this is one for dedicated art lovers only at €13.00 per adult for admission.
Don't miss another icon of the city, the giant Flower Puppy created by Jeff Koons, which sits patiently waiting outside the entrance of the Guggenheim.
3. Nose Around the Bilbao Fine Arts Museum
If you are an art lover then and looking for inspiring things to do in Bilbao, then check out the second most visited attraction in the city, the Bilbao Fine Arts Museum. It's home to an extensive collection of Basque, Spanish and European art from the Middle Ages to the present day.
Admission is €9 per adult, but just be aware that it's usually closed on Mondays and Tuesdays.
4. Take the Artxanda Funicular Railway
The Artxanda Funicular Railway winds its way up to the top of the Artxanda Mountain just to the north of the city centre. There are several restaurants, hotels and a park at the summit with spectacular views back across the valley where Bilbao sits and even out to the sea.
We highly recommend adding the railway to your top things to do in Bilbao checklist.
Rides cost just €0.95 per person each way but are also included in the local transport pass and it takes around 5 minutes to reach the top. It's well worth taking the ride up, if only for the views.
5. Stroll Along the Riverbanks
If the weather is nice to you then we would suggest taking a stroll along the riverbanks via the extensive footpaths.
Bilbao is such an easy city to navigate on foot and you'll rarely have to deal with buses or taxis to get to most places. That's why we are including the stroll to this top 5 things to do in Bilbao list. Plus it's a good way to work off all that amazing food you'll be constantly eating
Download this article as a self-guided walking tour on your smartphone. Check out our Bilbao City walk on gpsmycity.com
Where to Stay in Bilbao
There are plenty of hotels in Bilbao to suit all tastes and budgets, from boutique hotels to Airbnb accommodations.
For an authentic local experience try one of the hostels or guesthouses in the historic Casco Viejo (old quarter) area in Bilbao. You'll be at the centre of the action in the evenings when many of the streets come to life with people spilling out of the numerous pintxo bars in this area. This might mean there's a bit of noise in the early hours so check reviews carefully or just drink enough cider not to care.
For a slightly quieter stay, there's a great selection of private apartments for rent in the Deusto district. This area is just north of the centre so a pleasant stroll along the riverside will easily bring you down into the centre of the city.
If you'd like some stunning views across the once busy harbour and out towards the Bay of Biscay then take a look around the Abra Bay area to the north of the city. Many new hotels have sprung up here in recent years to offer you some great accommodation options away from the busier central areas.
Getting In and Around Bilbao
Bilbao is an easy city to reach for a quick weekend break from within Spain or across most of Europe as both domestic and budget European airlines fly here.
To get into the city from the airport use the handy bus service which leaves twice an hour and costs just €1.50 for the 25-minute ride. Taxis are also available and will cost around €25-€35 one way.
There are also some great rail links to nearby towns to then pick up high-speed trains across Spain and into France.
Bilbao is a great weekend destination if you are looking for trips from Barcelona or Madrid. It takes around 6 hours to get there via rail.
Regular buses also run to and from the stunning harbour town of San Sebastian (1 hr) or Santander (1 hr 15 mins) nearby which makes a great day trip if you are here for a while.
Getting around the city is easy on foot but there are the usual sightseeing tour buses if you want to take some weight off your legs.
Bilbao also has an amazing combination of local trams, buses and even a metro system which covers the city and surrounding area. For more information on destinations and fares check the official Bilbao transport website.
If you prefer to use your own transport then it is easy to hire a car in Bilbao to explore the local area.