Klaipeda is one of the topmost places to visit in western Lithuania. Renowned for its wonderful old town, ice-free port and unique character, the city is worth travelling to. And it sits by the beautiful Baltic coast!
I promise the city will impress you with its beautiful architecture, cobbled streets and sandy beaches. Above all, it's brimming with culture, local legends, and an increasingly good food scene.
I can't think of a better place for a Jazz Festival or the amazing Sea Feast. The latter is an explosion of colour, sounds and smells and brings everyone together for three days of full-on festivities.
Bookings: Some of the links in this article are affiliate links. This means that if you choose to make a booking, we will receive a small commission at no extra cost to you. Thank You!
A Brief History of Klaipeda
Klaipeda isn't just a lovely harbour city. Its rich historic past stretches back to 1252 when the Teutonic Order established the city of Memel.
First of all, during the Seven-year War from 1757 until 1762, the city belonged to the Russian Empire. Afterward, in 1807-1808 Klaipeda became part of Prussia and a royal family residence.
Eventually, after WWI, Klaipeda joined the Republic of Lithuania. However, the Soviet Union succeeded in seizing Lithuania in 1945.
Today Klaipeda is the second most prosperous city in Lithuania after the capital, Vilnius and a bridge between the western and eastern Europe.
In my opinion, the city is a beautiful and dynamic place to live and visit. Why don't you grab a cuppa and let's have a look at what's in it for you?
Things to See and Do in Klaipeda
Explore the Old Town
During WWII, Klaipeda lost a big chunk of its heritage. Before then, the old town flourished as one of the most beautiful places in Northern Europe.
However, the grid layout of cobbled streets still has a lot to show off. The old town is the most historic part of the city housing one-of-a-kind fachwerk architecture. Some of the best examples visitors can find in the 'Art Yard' - an arts and crafts space in Klaipeda.
Start your visit in the heart of the city, at the beautifully restored Theatre Square. You will instantly notice the glorious Drama Theatre. Look up to the balcony. Hitler stood here when he was joyfully announcing Klaipeda's annexation to Germany. It wasn't a voluntary merger. Führer threatened to occupy the whole country have the Lithuanian government declined the ultimatum.
Ann from Tharau, dedicated to Simon Dach, a German poet who was born in Klaipėda, adorns the square. Rumor has it that Hitler ordered to removal of this statue from its original place. It was too obstructing, apparently.
Discover Friedricho Pasažas (Friedrich Arcade), another tranquil and beautifully restored place. Once dull Soviet-era offices, the historic buildings are back to life. The Arcade is now a wonderful chill-out spot for both locals and visitors. In summer months, live local music shows often take place in the courtyard.
Go sculpture hunting in the Old Town
Whether you are travelling on your own, as a couple or as a family, you will love exploring the old town. The magical bronze, steel and granite masterpieces gracing this coastal city will melt your heart.
Try locating the imposing Serpentine sneakily slithering down the wall. Also, you simply must make acquaintance with the teeny tiny Magic Mouse. Whisper your secret wish in his ear when you find him.
The 2.4-meter Black Ghost is a stunning piece of art. The legend has it that this ghost saved the city from famine. It appeared next to the then-still-existing Memel Castle and warned people to save food and timber supplies.
The hooded statue looks especially stunning in the dark. Once the sun goes down, the ghost is lit up from the inside. A truly magical experience and a great photo opportunity.
While you are posing next to the Black Ghost, don't forget to check out the Chain Bridge. Manually rotated by two strong men, it is a sight to behold. Originally built in 1855, the bridge is the only such construction in Lithuania.
These are just some of my favourites. But you should grab a map with locations and a brief description of all the statues in the city. Pop into the friendly and helpful Tourism Information Center (Turgaus St. 7, Klaipeda), grab a copy and off you go!
Visit the Sculpture Park
The Sculpture Park is an awesome space to explore with exquisite artwork spread out between the tall shady trees. It looks especially stunning in autumn when covered in golden rustling leaves.
The local cemetery was transformed into a wonderful sculpture park back in 1977 and is now a memorial and an outdoor museum. The creative process of this park took over 15 years, but the result is truly stunning.
A total of 116 impressive granite sculptures live in the park, representing the modern sculpture era in Lithuania.
Discover Mazvydas Promenade
Stretch your legs for more fun in the city and explore the Mazvydas Promenade (Mažvydo Alėja). Discover many more beautiful art pieces perched on every bench. Great spot for those Instashots!
Walk along the Dane River
Have a relaxing walk along the river Dane. Stroll either south towards the Old Ferry Port or north towards the Botanical Gardens. A good starting point is the old Biržos Bridge.
Whichever direction you choose, firstly check out the wonderful Meridianas ship moored on the river bank.
Built by the Finnish back in 1948, beautifully restored in 2012 the vessel now houses a luxurious restaurant. You should check it out if looking for a romantic dinner spot. Prices are very reasonable, however, very typical for Lithuania, there are not too many veggie options.
The Botanical Garden belongs to Klaipeda University and is open for visitors from 9 a.m.- 5 p.m. on weekdays and from 10 a.m.-5 p.m. on weekends. If you have green fingers, you will love the space. There are around 250 species of plants naturally growing in the garden.
Check out the 'Little Mermaid' beneath the bridge, on the right bank of the river. It's a fairly recent addition to the sisterhood of all the other mermaids scattered across Europe.
Just like all the other marvellous statues in the city, this rather seductive Mermaid is unique. Look at the tail, but really close. Crafted from the pre-Euro Lithuanian coin the tail looks very exclusive. Such a clever way to commemorate the national currency which sadly, no longer exists.
Discover the Castle Museum in Klaipeda
The Castle Museum is a fantastic place to explore the history of Klaipeda and its development. Furthermore, inside the museum, you will be able to discover the detailed model of the mysterious castle fortification alongside other interesting artefacts.
Top Tip: Download this article as a self-guided walking tour on your smartphone. Check out our Klaipeda City walk on gpsmycity.com
Enjoy the Baltic Coast
Apart from all the wonderful things in the city, Klaipeda is also a beach destination. We Lithuanians take pride in our coastline and try to keep the sandy beaches clean and tidy.
Smiltyne beach
The beach can be reached by taking a passenger ferry from the Old Port. Surrounded by a beautiful evergreen forest, Smiltyne is a fine sand coast. Mostly locals come here for a relaxing day out. Due to the wide coastline, it always feels fairly empty.
Typically the water temperature varies between 18-22 C during the summer months.
Curonian Spit
Venture a little further away from Klaipeda and unearth the magical Curonian Lagoon. However, we recommend renting a car or a bike in Klaipeda. Take a ferry, cross the Curonian Lagoon and discover Lithuania's treasure and a UNESCO World Heritage Site.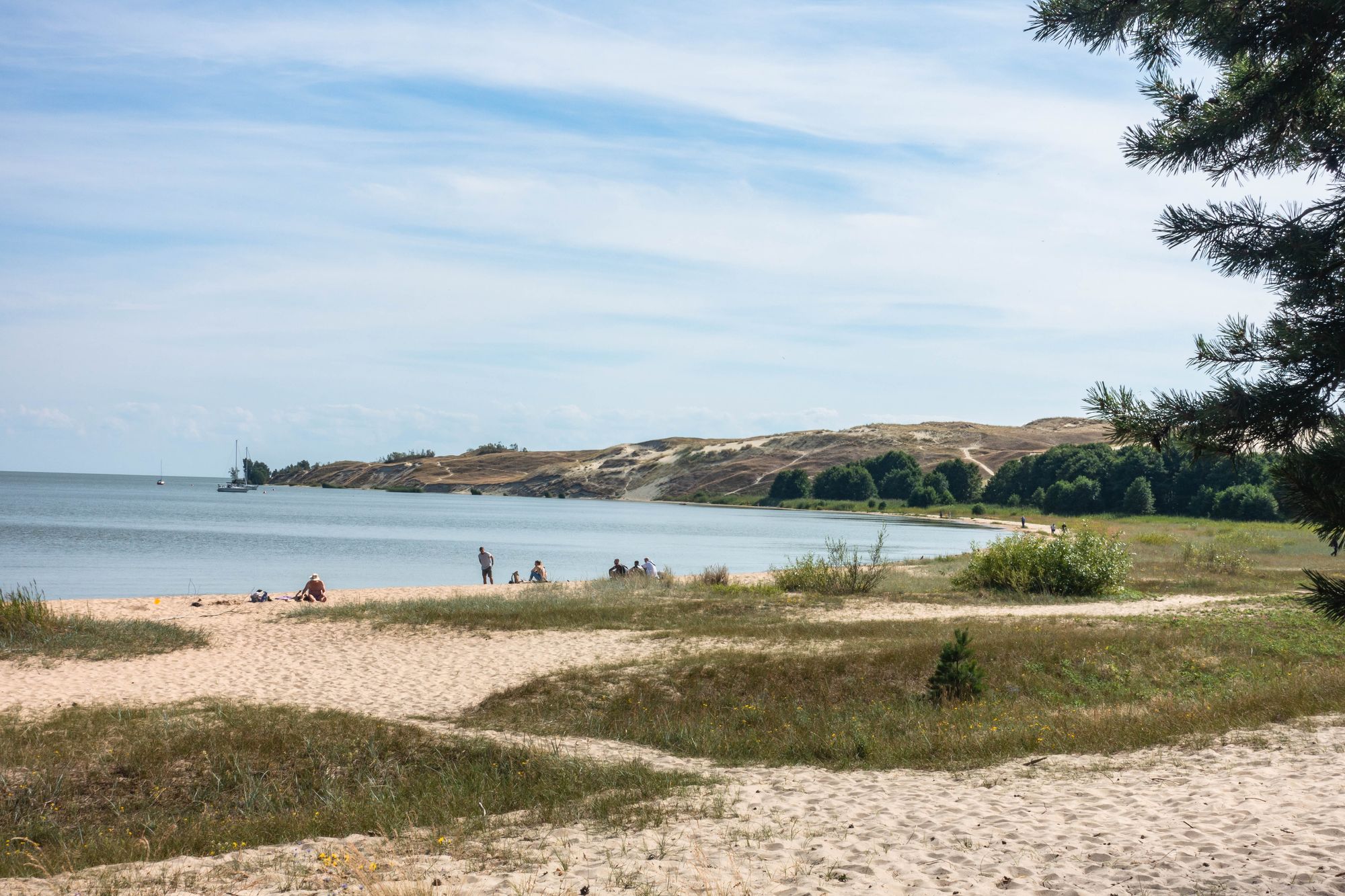 Explore the Seaside Regional Park
Established in 1992 to preserve the delicate ecosystems and natural seascape here, the Seaside Regional Park is great for outdoor fans. To explore the coastline, you can either drive, cycle or walk along the footpath from Klaipeda to Palanga.
Cycling through the regional park is a good option. You can pedal through the main attraction points such as Dutchman's Cap, Karklė ethnographic village and Nemirseta landscape preserve.
Giruliai
The beach here is mostly occupied by locals, especially families who come here to escape crowds during the summer seasons.
Conveniently located only 7 km north from Klaipeda, Giruliai is within an easy reach by local transport. If you are up for camping, here you will find the only seaside campsite in Klaipeda. The site offers various services from campervan parking lots to renting a tiny cottage. Perfect for those lazy days by the beach.
Karklė
A great place for the nature enthusiast. If you find yourself in Karklė, check out the Nemirseta landscape preserve. The preserve prides itself with unique seaside landscape and you might even be lucky to find a Lithuanian orchid here. A beautiful place to visit nonetheless.
Also, the Music Beach Festival takes place here in August. The headliners usually include Lithuanian legends as well as foreign bands from America and the United Kingdom.
Dutchman's Cap (Olando Kepurė)
Located in the Seaside Regional Park, the Dutchman's Cap (Olando Kepurė) is another cool sight to discover. The formation of Olando Kepurė started 12,000–15,000 years ago during the last Baltic glaciation.
It's an impressive 24.4-meter tall sandy cliff overlooking the Baltic coast and pebble beaches.
The cliff is in constant battle with the tall sea waves threatening to disassemble the sand bluff. This section of the regional park is included on the protected objects list of Lithuania due to the naturally fragile landscape.
Festivals in Klaipeda
The city has celebrated the fantastic Klaipeda Castle Jazz Festival since 1994.
Consequently, this jazzed-up affair happens each year, on the first weekend of June.
This all-night jam session is held near the castle ruins to promote the castle renovation project.
The legendary Sea Festival is one of the biggest festivals held in Klaipeda since 1934 bringing everyone together, the locals and the city guests alike.
The festival takes place during late July - August. This year (2017) it will take place on the 28th-30th of July.
If you are planning a trip to Klaipeda in the summer, try coinciding it with this fabulous 58th-annual event.
Music, beer, food, fireworks, and an amazing atmosphere are on offer during this fabulous three-day spectacular.
2017 will see the 4th Tall Ships Races event in Klaipeda.
Hundreds of beautiful vessels from around the world will be flooding into the harbour city for a spectacular regatta show. The celebration will take place on 29th July - 1st August.
The 2017 participating hosts are Sweden, Finland, Lithuania, and Poland. For more information check out the official event page.
Shrove Tuesday (Pancake Day). A great event to attend if you are visiting Klaipeda in February. The celebration involves burning the symbolic Effigy of winter in the Theatre Square.
Prepare yourself as the witches, devils and other mythical souls descend.
The festival symbolises the end of winter and the start of spring, hence the burning of the effigy. Great fun!
Things to do beyond Klaipeda
Ventes Cape (Ventės ragas) is one of the first bird ringing stations in Europe also known as the resting place for birds during migration. The distance between Klaipeda and Vente is around 40 km.
Here you will also find a lighthouse built back in 1863 during the Prussian era. The tower is not in use anymore, but you are welcome to climb up for stunning panoramic views of the peninsula.
Visit Dino Park. If you are travelling with kids, they will love this park. The giant dinosaurs roaring in the distance managed to impress even me! Located in a lovely forest, only 7 km outside of Klaipeda it is a rather fun and educational place for everyone (Pusyno St. 9, Radailiu village, Klaipeda district).
Where to eat and drink in Klaipeda
Monai is the top spot for good food in Klaipeda. The place is a lovely and elegant restaurant which will delight even the pickiest foodies.
It's best to make reservations in advance for a great evening out in the city. Check out their Facebook page for more information (Liepu St. 4, Klaipeda, phone number: +370 626 63362).
MOMO Grill is another sophisticated place for a good bite in the city. Owned by the same people as the above restaurant, it guarantees a gourmet experience every time you visit.
This pride and joy of the city serves freshly prepared delectable food in a cosy and welcoming atmosphere.
For more information check out their Facebook page. Make sure to book a table in advance to avoid disappointment (Liepu St. 20, Klaipeda, phone number: +370 693 12355).
Meat Lovers really is for meat lovers! If you like the sound of burgers with a sea view, check this place out. Good atmosphere and as locals say, it's the real Klaipeda! (Danes St. 1, Klaipeda, phone nr: +370 652 21998).
Senamiestis is the number one place to visit in the old town (Art Yard). It's far from a luxurious restaurant for dinner, but a rather fun and unique spot for a snack and beer.
Here you will have the privilege of tasting the legendary cheese sticks served with mayonnaise and tomato sauce. Also, order a pint of Švyturio Tamsusis (dark) beer to go with for a cracking combination.
Head to the rooftop bar Viva La Vita for a cheeky drink with panoramic views of the stunning Curonian Lagoon.
From many places in Klaipeda, you will be able to see the two iconic buildings K and D. Head to the K building and go all the way up to the roof terrace. Food and service can be hit-and-miss though.
Restaurant XII at Amberton Hotel is another space to pop in if you crave 360-degree panoramic views.
The restaurant, framed with city lights is quite suitable for a romantic couples' dinner.
Cafes in Klaipeda
Maybe a tad expensive for an ordinary Lithuanian, but very stylish, Vanilės Namai (Vanilla House, H. Manto St. 3, Klaipeda) will serve you a good cup of coffee or a lovely local tea.
Check out the mouthwatering cake selection on display and try to resist it.
If you are after unique and exceptional quality coffee, pop into the Kavos Architektai (Coffee Architects, H. Manto St. 9, Klaipeda).
The baristas here are extremely friendly and know their coffee very well. Refresh your taste buds with smooth espresso or indulge in sinful Affogato served with ice cream, pure bliss!
Cafes in Klaipeda started serving local Thyme tea, I've noticed and it is delicious! You should absolutely try it at Kavos Architektai.
Next door, you'll find Musangas, a specialist coffee roaster and cafe. (Musangas Coffee Shop (Musangas Kavos Skrudinimo Namai), H. Manto St. 9, Klaipeda).
Kavos ir Likerio Namai (House of Coffee and Liqueur, Tiltu St, 26a, Klaipeda) is in the midst of fashionable meet-up places. You will find it in the stunning Friedrich Arcade.
This cosy and inviting coffee and tea house has an amazing selection of teas and coffees from healing to indulgent. Check out their sweet counter too!
Top Tip: Download this article as a self-guided walking tour on your smartphone. Check out our Klaipeda City walk on gpsmycity.com
Where to stay in Klaipeda
Klaipeda Hostel: If you are on a budget, this place is for you. It's cosy and clean. Apart from accommodation, the hostel organises various trips in and around Klaipeda. They also rent bikes if you fancy a little bit of exercise (Butku Juzes St. 7, Klaipeda).
Memel Hotel: A good choice for mid-range travellers as it's clean and in a good location. Friendly staff plus bikes free of charge is a real bonus (Bangu St, 4, Klaipeda).
Michaelson Boutique Hotel: For a touch of luxury, check out this excellent hotel in a fabulous location. Very pricey, but a nice place to stay on that special occasion.
Old Mill Hotel: If you are looking for a great location and authentic-looking accommodation, check out this hotel. It sits right next to the Chain Bridge and the iconic Black Ghost.
Getting in and around Klaipeda
By plane. Ryanair operates regular flights to Vilnius and Kaunas from most of Europe.
Additionally, the following airlines are operating direct flights to the nearby Palanga International Airport: Baltic Air (Riga, Latvia), Norwegian Airlines (Oslo, Norway), SAS (Copenhagen, Denmark), UIA (Kyiv, Ukraine), LOT (Warsaw, Poland).
For just over €1, the bus Nr.100 outside the airport will take you to the main Klaipeda bus station.
It takes around 30 minutes to reach Klaipeda by car, taxis are available outside the airport.
By bus. The distance between Vilnius, the capital and Klaipeda is around 300 km. Visitors can easily reach it directly by regular buses from the main bus station in the city. The bus will take you to Klaipeda in approx 4 hours at a cost of around €13. You can also get a bus from Riga.
The distance between Riga and Klaipeda is practically the same as from Vilnius to Klaipeda.
Express minibus service Ollex.lt carries passengers to Klaipeda from the airports in Lithuania and Latvia. It's an easy option if you are planning to go straight to Klaipeda from the airport. I'd recommend booking your trip in advance, through their website. Below are the prices:
Vilnius Airport – Klaipeda costs €15. The journey takes around 4 hours. Drop off point – supermarket 'Akropolis.
Kaunas Airport – Klaipeda costs €17. The journey takes around 3.45 hours. Drop off point – supermarket 'Akropolis.'
The trip to Riga Airport – Klaipeda costs €15.90. The journey takes around 4 hours. Drop-off point – the main bus station.
Getting around the city
Klaipeda city centre is quite compact and is easy to explore on foot. However, if you are not big on walking, local transport is very regular.
Local Buses are pretty punctual. People carriers, called 'mikriukai' (minibus) by the locals, are regularly cruising around the city. They usually have a number placed on their front screen to indicate the direction. Cost per journey is around €0.80.
Bikes are increasingly popular in Klaipeda with proper bike paths stretching through the city.
However, be extra careful and forgiving. Occasionally you will come across pedestrians leisurely walking along the dedicated cycling paths.
If interested in renting a bike, check out these places:
'Du Ratai'- Naujoji Uosto st. 3, Klaipeda.
'Klaipeda Hostel' - Butku Juzes st. 7, Klaipeda.
Also, you can now use the brilliant 'Dropbyke' app on your smartphone to easily rent a bike.
Rent a car if you are planning to visit the Curonian Spit or explore the sights outside the coastal city. For easy access, renting a car at the airport is best.
Top Tip: Download this article as a self-guided walking tour on your smartphone. Check out our Klaipeda City walk on gpsmycity.com