This independent Lithuania travel guide will help you discover the country through the eyes of an insider. Once the biggest country in Europe - back in the 14th Century - Lithuania is still, surprisingly, undiscovered by many.
While Vilnius, deservedly, receives a fair amount of attention, lots of smaller cities get overlooked. Our mission is to show you that there's more to Lithuania than the capital city.
From top visitor attractions to traditional food, Baltic seaside destinations to road trips and quirky stuff, we will guide you through the top sights to see and things to do in Lithuania. All you have to do is keep on reading!
Bookings: Some of the links in this article are affiliate links. This means that if you choose to make a booking, we will receive a small commission at no extra cost to you. Thank You!
Top places to visit in Lithuania
As you explore Lithuanian, you will notice that the bitter residue of the Soviet era has been transformed into quirky open-air museums and exhibitions all over the country, as a testimony to country's past - gone, but never forgotten.
Vilnius - the capital of Lithuania
Easily reachable from any major destination in Europe, The capital city Vilnius is the most visited place in Lithuania.
With the Old Town declared the UNESCO World Heritage Site, Vilnius is beautiful and quirky at the same time. It's a city of open-minded people, arts, beautiful architecture and fast emerging food culture.
To have a good feel of the city, visit these notable buildings :
Palace of the Grand Dukes of Lithuania: A very recently restored, beautiful historic building that caused a lot of controversy among the locals due to its costs. Ticket per adult - €3, guided tours - €15 (in Lithuanian), €22 (in foreign language).
The Castle Museum (also known as the Gediminas Castle Tower): Great exhibition and fantastic panoramic views of Vilnius. Adult ticket - €5.
Cathedral Basilica: One of the most important churches in the country and a burial place of the most powerful dukes and duchesses of Lithuania. Bookings are required for the dungeon visits via phone or email (cattrospozemiai@bpmuziejus.lt).
Gates of Dawn: The most iconic piece of architecture in Vilnius and one of the remaining 10 gates of the defensive wall of the city. The gate is famous for its 17th Century painting depicting Madonna of Dawn Gates. The image is sometimes referred to as Madonna of Vilnius.
St Anne's Church: One of the most famous and possibly the most beautiful Gothic-style churches in Vilnius. The historians claim that Napoleon himself thought the church to be so beautiful that he wanted to carry it in his palm all the way back to Paris.
Vilnius University: Founded back in 1579 by Jesuits, the University of Vilnius is a symbol of the city. It consists of Gothic, Renaissance, Baroque, and Classicism style buildings. Tickets per adult - €1.50.
If visiting in the summer, climb the Bell Tower of St. John's Church for lovely panoramic views of the capital (price per adult - €2.50).
Cool and quirky things to do in Vilnius
Užupis: This is a very cool and quirky place to visit in Vilnius. Užupis is one of the oldest districts in Vilnius that was abandoned during the Soviet era. But since 1991 the area was inhabited by artists and brought back to life.
Take an afternoon stroll in this now prestigious neighbourhood and see if you can spot a mermaid on the banks of the river! It's said that those who find it are destined to remain in Užupis forever.
Gediminas Avenue: Partially a pedestrian street, the stunning avenue leads toward the Cathedral Square. It takes its name from Gediminas, the Grand Duke of Lithuania and is great for shopping, dining or evening strolls once the traffic stops running.
Interestingly, during the Nazi Germany occupation, the street was called Adolf Hitler Street and during the Soviet era, it was called Stalin and later Lenin Street.
Castle Street: Whether you are looking for souvenirs or not, Castle Street is a fun place to visit in the Old Town. If anything, it's a colourful and buzzing lane dotted with vendors selling traditional Lithuanian crafts and gifts. It runs from Cathedral Square to Town Hall Square and offers great photo opportunities for travellers with an eye for detail.
TV Tower: Your Lithuanian holiday will only be partially complete without a visit to the iconic TV Tower. This is the tallest structure in the country which became a symbolic part of architecture during the unsettling events that took place on 13th January 1991.
The tower was surrounded by USSR tanks in an attempt to seize the Lithuanian media. Sadly, 14 unarmed Lithuanian citizens were killed while protecting the tower.
Today it houses a small exhibition to commemorate the heroes with photos revealing the brutal events that happened on the day.
On a more cheerful note, you can take the lift all the way to the rotating observation deck (3,265 m) and enjoy fantastic 360-degree panoramic views across the capital of Lithuania. Ticket per adult - €7 on weekdays, €9 on weekends.
At the observation deck, you will find a restaurant "Milkyway" offering a mix of traditional Lithuanian and standard international dishes.
Iceland Street: Iceland was the first country in the world to recognise Lithuania as an independent state in 1991. To express gratitude and commemorate such significant gesture, a street near the city centre was named after the country itself - Islandijos gatvė.
Must-see events in Vilnius
Loftas Fest: Interested in urban art festivals? Then you will love this inspirational two-day even in Vilnius. It's packed with music, performance arts, midnight shopping and much more. The festival usually takes place in early September.
Vilnius City Festa: If you can, time your visit to Vilnius with this spectacular annual festival. Mainly held in Cathedral Square, this largest even in the capital attracts hundreds of citizens and city guests. It's jam-packed with exciting events and usually takes place in the first week of September.
Christmas Spectacular: Lithuania is not commonly known as a European Christmas destination, but in recent years Vilnius upped its game in this department and attracted quite the attention to itself. The 2017 Christmas tree in Vilnius was voted the most beautiful Christmas tree in Europe. Nice!
It's becoming quite a tradition in Vilnius to transform the main city plaza into a winter wonderland and with high possibility of snow, it might become just the place to visit in the festive season.
Kaziukas Fair: An entertaining and very traditional annual event worth seeing in Vilnius. The streets are brimming with food, handicrafts, colourful folk dancers and various events taking place in the first week in March.
On a slightly smaller scale, this fun fair also takes place in smaller cities around the country, so that's something to keep in mind when visiting Lithuania.
Street Music Day: If you are visiting Vilnius in spring, look out for the Street Music Day. This national music festival, inspired by the nation's beloved artist Andrius Mamontovas, unites all, professional and amateur musicians. Imagine streets filled with music played by all instruments you can possibly imagine - an affair not to be missed in Vilnius! It usually takes place on 20th May.
Restaurants in Vilnius
Lauro Lapas: Italian menu, family-friendly restaurant. Address: Pamėnkalnio g. 24, Vilnius.
Jurgis ir Drakonas (JD): Founded by a Lithuanian journalist turned food blogger and TV celebrity chef and her British husband, this is the best pizza spot in Vilnius.
Branch addresses: JD Quadrum, Konstitucijos pr. 21c, verslo centras Quadrum North, Vilnius. JD Akropolis (shopping centre) Ozo g. 25, PC Akropolis, 2nd floor. JD Ogmios. Verkių g. 29, "Ogmios" city, Šeimos aikštė 6, Vilnius. JD Pylimo. Pylimo g. 22D, Vilnius.
Terrazza Restoranas: A mix of meat and seafood dishes, from beef patties to octopus carpaccio. Address: Konstitucijos pr. 26, Forum Palace rūmai, Vilnius.
Mano Guru: Salad bar and social enterprise with the vision to encourage careers in the food industry. Address: Vilniaus g. 22/1, Vilnius.
Grill London: Cosy, family-friendly chain restaurant. The restaurant's responsible food concept is used throughout all branches across the country (Kaunas, Vilnius, Klaipeda) where food is grilled in unique ProFlame ceramic Kamado grills. To find out where this restaurant is located, follow this link.
Where to sleep in Vilnius
Stikliai Hotel: Centrally located boutique hotel just a stone's throw away from Town Hall Square. Think of Egyptian cotton linens and feather duvets for a good night's sleep.
Novotel Hotel: Comfortable and spacious rooms, contemporary decor, and perfectly located for exploring the Old Town.
Hotel Panorama: Affordable comfort in the Old Town. Bonus point - great panoramic views of Vilnius.
Shakespeare Boutique Hotel: Be charmed away by this boutique hotel housed in a renovated 17th-century palace. Excellent location, clean and comfortable. The rooms are named after and contain books of world-renowned writers, a very nice touch!
Narutis Hotel: Well-located boutique hotel with a sprinkle of history and rooms overlooking the Old Town. Built in 1581 and declared a World Heritage Site by UNESCO, the building is an architectural treasure.
Grotthuss Boutique Hotel: A small but cosy and elegant boutique hotel in Vilnius Old Town.
Trakai Castle Island
The survivor of many historic tragedies, Trakai Castle Island is located only 28 km west of Vilnius. This spectacular site is a national treasure and one of the most visited historic attractions in Lithuania.
Trakai Castle: The main point of attraction here is the legendary Trakai Castle. Lithuanians from across the country, as well as visitors, have been travelling long distances to wander the walls of this red-brick fortification.
The Gothic castle dating back to the 15th Century is the birthplace of the legendary ruler of the Grand Duchy of Lithuania, Vytautas the Great. The name is still carried by many men in the country.
The idyllic lake surrounding the castle is another major attraction in Trakai. Renting a boat or a yacht for a scenic ride is a popular thing to do among visitors.
The Trakai Historical National Park: It's the smallest national park in Lithuania but nonetheless the most unique. The natural rough landscape of the park includes 32 lakes, picturesque hills, beautiful manors, and villages.
There are more than fifty objects to visit in the area so spare a full day of explorations. As you visit Trakai town, discover The Ruins of Trakai Peninsula Castle, a defensive fort ruined by the Teutonic Order in the late 1380s.
Try Kibinai: One other thing to do in Trakai is to try the traditional pastry called Kibinai. You can buy it in town or from the local ladies sitting by the lake. The pasty filled with meat and onions comes from the Crimean Karaite ethnic minority in Lithuania and the closest comparison would probably be the Cornish Pasty from England.
Kaunas -the former capital of Lithuania
Kaunas is known as the temporary capital or "the heart of Lithuania" as many like to refer to this second-largest city in the country.
Kaunas might have earned a bad reputation among the locals, but the city has been actively improving its appearance to put its name back on the map.
I am pleased to hear (and a little saddened that my beloved Klaipėda has lost the competition) that Kaunas has been chosen as the European Capital of Culture in 2022.
See and do in Kaunas:
Kaunas Castle: The oldest concrete castle in Lithuania built in the 13th Century. After many attempts, the Prussian soldiers finally destroyed the castle in 1362. To claim the victory and, I imagine, to insult the pagans, the Crusaders held an Easter mass on the remains of the castle.
Kaunas castle was rebuilt but lost its defensive importance after the Teutonic Order was crushed by the united forces of the Kingdom of Poland and the Grand Duchy of Lithuania. The castle became a residence of the Grand Dukes of Lithuania.
Tickets per adult - €2,50. Kaunas Castle opening hours:
Sept 1st. – May 31st.: Tuesday – Friday, 10 am – 18 pm., Saturday 10 am–17 pm.
Jun 1st. – Aug 31st.: Tuesday – Saturday, 10 am–18 pm., Sunday, 10 am–16 pm.

Address: Pilies g. 17, LT-44275, Kaunas.
Devils' Museum (Žmuidzinavičius Museum): One of a kind, the three-floor museum houses more or less 1000 devilish sculptures - big and small, evil and cheeky - from around the world. Devils and witches are a big part of Lithuanian folk culture so it comes as no surprise to find such abundance of mythical creatures in Kaunas.
Ticket price - €3. Museum opening hours: Tuesday – Sunday 11 am–17 pm, Thursday 11 am–19 pm.
Address: V. Putvinskio g. 64, Kaunas 44211, Lithuania.
Another quirky devil's residence is located in Juodkrantė, on the Baltic Coast. Be sure to visit the mythological Witches Hill on your way to Nida.
Kaunas Old Town: Situated between the confluence of two major rivers in Lithuania, Nemunas, and Neris, the medieval Old Town greets its visitors with the 14th Century Kaunas Castle.
In the centre, close to the red-brick castle, lies one of the most important squares - Rotušės Square, where major city celebrations take place, adorned with the 53-meter-tall City Hall, built in late-baroque and early-classical style.
To the south of the square, you'll find the oldest building in Kaunas - Vytautas Church - commissioned by the Grand Duke himself in 1399. This Gothic-style building is also known as Perkūno (Thunder) House.
As you explore the Old Town of Kaunas, you'll find many churches dating back as early as 1480 as well as Kaunas Cathedral, the largest gothic-style building not only in Kaunas but in Lithuania.
Laisvės Alėja: Translated as "Freedom Promenade", it's the oldest part of Kaunas and one of the longest pedestrian streets in Europe. It stretches for 1.6 km and is filled with a rich modern architectural heritage from the interwar period.
The street populated with cosy cafes, restaurants and bars, boutique shops and cultural landmarks makes it a popular meeting spot among locals.
Kauno Kristaus Prisikėlimo Bažnyčia: Completed in 2005, the Christ's Resurrection Church is a monument with great emotional value for Lithuanians.
After Lithuania regained freedom in 1918, locals wanted to give thanks to God by erecting a church in Kaunas. As the former capital of Lithuania, Kaunas was chosen as a symbolic place for such a grand monument.
The first cornerstone was brought from Jerusalem in 1934 and funds to build the church were collected from Lithuanians around the world, especially expats in the US.
The church was approaching completion before the works were suspended in 1940. During the war, the building was taken away, the cross and chapel demolished and the near-finished church was used as a radio factory.
The seventy-meter-tall Basilica was finally completed in 2005 and is considered to be a masterpiece of modern architecture. The church can accommodate over 5,000 people and offers fantastic panoramic views of Kaunas from the roof.
Address: Žemaičių g. 31A, Kaunas 44175, Lithuania
IX Fort: This gruesome place, also known as Death Fort, has seen many horrors from 1924 until 1948. Originally built as a fort to strengthen Kaunas defensive fortress, in 1924 it was used by the Soviets to contain political prisoners on their way to Siberia.
The grimmest time at the fortification was 1941-1944 when the fort was used as a mass extinction prison by the Nazis who killed more than 30,000 Lithuanian, Austrian, French, and German Jews there.
Visiting the IX Fort might be very upsetting but necessary to understand the suffering and atrocities committed by the Soviets and Nazis. Today the fort is a peaceful spot and a museum surrounded by a lush green-grass carpet.
It exhibits many genocide artefacts and allows visitors to visit the dark and cold prison cells.
Don't miss the thirty-two-meter-tall monument erected to remember the victims of fascism. There's an engraved sentence that reads in several languages: "The place where Nazis and their counterparts killed more than 30,000 Jews from Lithuania and other countries".
Museum opening times: Wednesday - Sunday from 10 am-16 pm, closed on Monday - Tuesday. Adult ticket price - €3. Address: Žemaičių plentas 73, Kaunas.
For even more ideas, check out these great sights to see in Kaunas.
Šiauliai and its atmospheric Hill of Crosses
Šiauliai is home to the most symbolic sight in Lithuania, the Hill of Crosses. It is considered to be one of the most sacred places not only in Lithuania but also in the world.
Located around 12 km north of Šiauliai, it is a sight of pilgrimage and a testament to people's peaceful resistance during the Soviet era.
The USSR bulldozed it at least 3 times, but people kept rebuilding the site. The importance of keeping their faith during the occupation is manifested in the hill covered in tens of thousands of crucifixes, rosaries, and carvings. A truly atmospheric place to visit.
In 1993 the sight was declared the place of hope and peace by the Pope John II.
Western Lithuania - Klaipėda
Located in the west, 300 km from the capital city of Vilnius, Klaipėda is home to the ice-free port of Lithuania.
The 3rd largest city is also well known for its fantastic three-day Sea Festival and the annual Jazz Festival.
The city dates back to 1252 when the Teutonic Order established the city of Memel. Hence the old town features German-style, 18th Century wood-framed buildings.
Many refer to Klaipėda as a gateway to the spectacular Curonian Spit but it is so much more than just a pit stop to catch a ferry. The growing coffee culture will see you sipping a tasty cup of Joe in a cosy cafe while the increasingly good food scene will have you lunching and dining at top-notch restaurants.
The fun-filled old town is exceptionally beautiful. You must spare an afternoon for a statue hunt when you are in the city. Pick up a copy of a map at the friendly information centre for directions.
Where to sleep in Klaipėda
Klaipėda Hostel: If you are on a budget, this place is for you. It's cosy and clean (Butkų Juzės st. 7, Klaipėda).
Memel Hotel: A good pick if you are a mid-range traveller. The hotel is clean and in a good location (Bangų st, 4, Klaipėda).
Michaelson Boutique Hotel: For luxury travellers. Excellent hotel in a fabulous location (Žvejų g. 18, Klaipėda).
Old Mill Hotel – an authentic-looking accommodation in an excellent location. Sits right next to the iconic Chain Bridge (Žvejų g. 22, Klaipėda).
Nida and the spectacular Curonian Spit
Welcome to the UNESCO World Heritage Site, home to the largest moving sand dunes in Europe, natural ecosystems, and fishing villages. If you are in search of a quality holiday in Lithuania, this blissfully peaceful strip of sand, stretching along the Baltic Coast, offers refuge to nature enthusiasts at any time of year.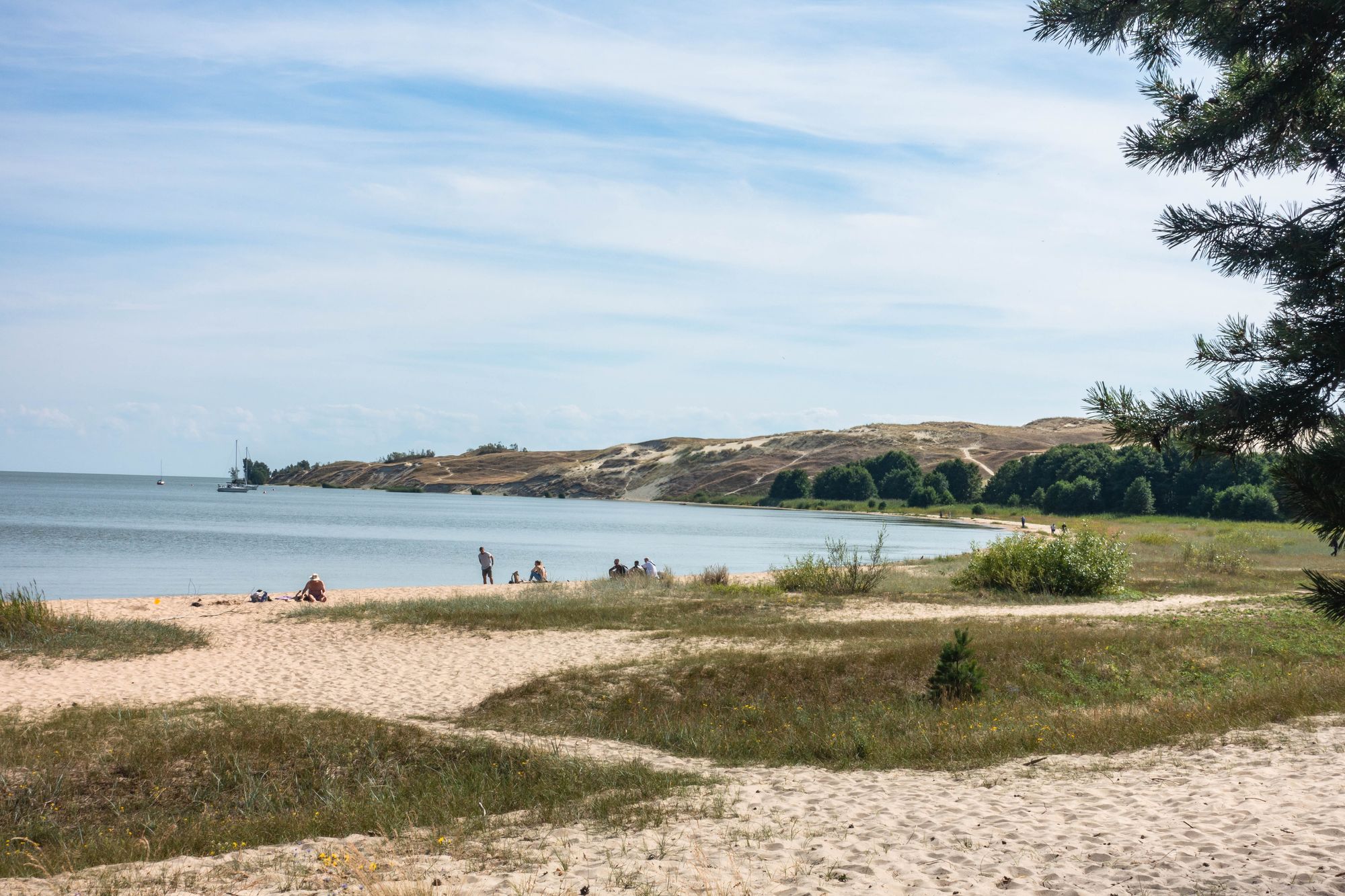 Juodkrantė, one of the settlements on the Curonian Spit is also home to the atmospheric Hill of Witches, a pine forest dotted with mystical creatures carved out of wood. The sculpture park is based on Midsummer Night's Eve, a pagan celebration mostly celebrated in northern Europe.
During the summer season, Nida offers a wide range of outdoor activities from hiking to kayaking, cycling to sailing and even more. Exciting events like the International Curonian Lagoon Regatta or handicraft festivals take place here too.
We have written a helpful guide to visiting Nida and the Curonian Lagoon if you are interested in learning more about this hidden gem of the Baltic Coast.
Be sure to check it out. In the guide we've covered things to see and do in Nida, how to get to the Curonian Lagoon, and when is the best time to visit.
Where to stay in Nida
Bed and Breakfast Prie Marių (Purvynės 9-1, Nida) - This is our favourite place to stay in Nida. It sits right on the edge of the Curonian Lagoon and has lovely, spacious and clean rooms for every kind of traveller.
Palanga - the seaside town
Palanga is a small resort town situated on the Baltic coast. Recently restored Basanavičus Street, the main boulevard leading the visitors all the to the beach, is well-known across the country and boasts 200 years of history.
During the season (June-August), the street is brimming with bars, restaurants, and cafes promising the locals and the guests a night to remember.
In the summer months, the town is buzzing with holidaymakers. Partygoers flock to this seaside destination from all over the country, even from the neighbouring countries Latvia and Estonia. I personally prefer visiting Palanga outside of the season months for its tranquillity.
The sandy Palanga beach is one of the main attractions and accommodates thousands of sun-seekers every day during the season. But if you dig deeper, you will find that the town is so much more than just a beach and party destination.
There's the Tiškevičius Palace surrounded by all-year-round manicured gardens, the brilliant Amber Museum, and the sacred pine-tree forest with Birutės Hill reaching 21 meters above sea level.
Places to Visit in Palanga
Tikševičius Palace and Gardens: The restored 19th-century manor, surrounded by the Palanga Botanical Garden, is a serene oasis for anyone looking to escape the noisy streets of the buzzing summer capital of Lithuania.
Palanga Botanical Garden: Historians estimate around 500 varieties of plants are present in the garden. Designed by the French landscape architects, the Botanical Garden is an eye-pleaser and a soul soother.
It is very likely that you will gatecrash a wedding photo shoot here as the beautiful surroundings featuring ponds and pretty white-painted bridges are very popular backdrops for the local nuptials.
The park is also home to the legendary forested sand dune and a well-known pilgrimage site in Lithuania, Birutes Hill.
Birutės Hill: Evidence found in the forest tells us about the earliest settlement being established here as early as the 9th century. According to the sources, a pagan sanctuary was built at the top of the hill.
Here, Birutė, wife of the Great Duke of Lithuania, Kęstutis - also mother to the ruler of the Grand Duchy of Lithuania in the 15th century, Vytautas the Great - lived and kept the holy fire burning. It's believed that she was buried here too.
Amber Museum: The Baltic coast has been successfully trading amber since prehistoric times and by the end of the 18th century, Palanga was the centre of the amber industry.
To have a glimpse at the extensive collection of so-called Lithuanian gold and to learn more about the Amber Road, visit the Amber Museum housed in Tikševičius Palace.
The complete collection contains an overwhelming 28,000 amber pieces including fragments with insect and plant inclusions. Fifteen rooms are devoted to the exhibition showcasing over 4,500 pieces of amber, some of them in a form of enchanting jewellery.
One of the largest pieces of amber in Europe, the "Amber Sun" or "Sun Stone", which was stolen twice, is also exhibited here.
Where to eat in Palanga
HBH Brewery (HBH Palanga) is one of the most popular places to visit in the area for a hearty local grub. If not for food, visit this place for fun. Surrounded by the beautiful pine-tree forest, the brewery has something for everyone. While you are here, don't forget to order the locally brewed Kvass. It's the best Kvass that I've tried so far!
Long queues are common during the summer and national holidays, but they usually move fast. Check out their website for more information.
Visit Kretinga, the oldest town in Lithuania
A short 12 km east of Palanga, you will reach Kretinga, the oldest known town in Lithuania. The town is known for its Winter Garden and the Benedictine Monastery.
Quirky things to see and do in Kretinga district
Astronomical Calendar: The current sundial /astronomical calendar was built in 2002, but it's believed that the first ever sundial in the country was also built here, in my hometown Kretinga, in 1610.
The stones mark the dates of important celebrations such as Christmas Eve, Christmas Day, Easter, New Year, All Saints Day as well as important historical events.
Motoball (motorcycle football): Have you ever heard or seen Motorball? No, then you are in for a treat! There are two, Kretinga and Skuodas motor clubs in Lithuania.
Being from Kretinga myself, I am very proud to tell you that in three consecutive years, 2009, 20010, and 2011, the current Kretinga motoball club "Milda" won silver in the Belarus Motorball Championship.
If you fancy an afternoon of roaring action, you can see the games here: Tiekėjų g. 34, Kretinga, LT-97123. Price per adult - €5.
Benedictine Monastery: The monastery is closed to the general public but organised tours into the dungeons take place if you fancy a spooky experience. For bookings, send an email (kretingosparapija@gmail.com) in advance.
Kūlupėnai Railway Bridge: If you are after quirky places and historical facts in Lithuania, then head towards Kūlupėnai railway bridge built in 1931-1932. Kūlupėnai train station was the spot from where thousands of people have been exiled to Siberia during the Soviet era.
Orvidų Sodyba: An open-air museum filled with stone, wood and other unusual art pieces. Some find it interesting some find it disappointing, but if you, like us, enjoy nosing around quirky places, you will find this museum rather eclectic and symbolic.
Check out their official page for more information. Entry ticket costs €3 per adult.
Dino Park: If you are travelling to Lithuania with children, then you might want to pop into the prehistoric world of T-Rex and Stegosaurus, the biggest dino park in the Baltic states.
The dinosaurs are really impressive, build to reflect their accurate size and character. They move, roar or hide in the bushes. A great day out!
The Dino Park is open from mid-March to mid-November. Tickets cost €7 per person. Check their website for more details.
Where to eat in Kretinga
For a traditional feast, make your way to Vienkiemis, a resort-like place complete with a large restaurant, accommodation, and saunas for your well-being.
Have a look at their website for more information. GPS coordinates: 55.54.39/21.14.54
The earlier mentioned HBH Brewery is around twenty-minute drive from Kretinga city centre, located on the 3209 a short distance from the turnoff of the A13 coast road.
Address: Liepų g. 23, Žibininkų km., Žibininkai 97231.
Telšiai - the capital of the Lowlanders
Telšiai, situated on the brim of Lake Mastis, is one of seven protected old towns in Lithuania. The 4,2 km long and 5,3 m deep lake sits in the middle of the town offering its visitors beautiful views as well as recreational activities such as walking and cycling routes.
If you are into watersports, then have a go at kayaking in the lake or take a longer, one-day or even three-day trip for a more adventurous experience along the river.
Plateliai town
Plateliai is widely known for its spectacular Lake Plateliai, the biggest lake in Samogitia and the 9th biggest lake in Lithuania.
It's forty-seven meters deep and has several tiny islands, some of them underwater. Various underwater archaeological research activities take place in the lake as the locals believe that Lake Plateliai hides some islands that were sacred to pagans.
Lake Plateliai is great for picnics, walks, swimming or relaxed evenings with a cold brew. Yacht club and dive centre operate during the summer months making the place a popular water sports destination.
Or you can go for this super fun all-day canoe tour across the stunning national park.
Spa towns in Lithuania
Druskininkai and Birštonas are well-known for their natural mineral water, mud and even medical spa therapies. They both are considered SPA and resort towns in Lithuania.
Spa break in Birštonas
Back in the 15th Century, Birštonas was a hunting ground of the Grand Duke of Vytautas and his guests from all over Europe. Later, in 1846, when mineral water sources were discovered, the area gained its popularity as a natural healing site.
Mineral water sourced from deep natural springs and named after Vytautas and Birutė (his mother) is bottled in Birštonas and distributed across the country.
Spas in Birštonas:
Vytautas Mineral Spa: One of the most popular spas in Birštonas holding an accolade of the most innovative spa in Europe. Address: Karalienės Barboros al. 2, Birštonas.
Eglė Spa: One of the most popular spas in Birstonas. This medical spa offers over 100 treatments including amber rituals, mineral water and mud therapies, white mud and essential oil applications, massages, and even cold healing in -140C, the first cryo (cold) chamber in the country, brrrr!
Address in Birštonas: Algirdo g. 22, Birštonas.
Tulpė Spa: Offers a mix of classic Turkish and Finnish saunas, mineral mud baths, massages and much more. Address: B. Sruogos g. 4A.
Royal Spa Residence: Housed in a four-star hotel, the spa offers a large choice of health and beauty therapies including massages and overall health restoration therapies. Address: Pakalnės g. 3, Birštonas.
Spa break in Druskininkai
Druskininkai can be translated as a salt town and is another popular spa destination in Lithuania. The spa status to the town was given by Czar Nicholas I of Russia and so the construction of health facilities began soon after.
The town boomed during the Soviet era but experienced a significant setback after it collapsed. Despite the economic difficulties, the town is now one of the most modern resorts in Lithuania housing prestigious spas offering health and beauty services.
Not only it's a popular relaxation destination, but it also boasts one of the biggest indoor skiing slopes in Europe. If you are a skiing or snowboarding fan, you can enjoy winter sports here all year round.
Spas in Druskininkai:
Spa Vilnius Druskininkai: The biggest wellness spa in Lithuania. Think of Turkish saunas, restoring massages, foot reflexology, and honey baths. Excellent choice for a relaxing spa break in Lithuania. Address: K. Dineikos g. 1, Druskininkai.
Grand Spa Lithuania: Relax and unwind, let them restore your body and state of mind. The spa offers a range of beauty treatments including detoxifying foot scrub, volcanic mud body wrap, and rejuvenating face masks. Address: V. Kudirkos g. 45, Druskininkai.
Treetop walking in Anykščiai
Anykščiai is considered to be another resort, but this time a more active ski-resort town. Surrounded by beautiful pine tree forests, the town is perfect for recreational activities.
The regional park is filled with exciting walking and cycling paths and houses the iconic Treetop Walkway elevated sky-high above the forest floor.
While you are visiting Anykščiai, you might want to pop into The Roman Catholic Church of St. Matthias. With its spires reaching seventy-nine meters in height, it's the tallest church in Lithuania.
Now that you've been to the house of Devils in Kaunas, it's time to visit the Angels. Not as extensive as the Lucifer collection, but a considerable amount of 109 angels live in the Angel Museum. However, the selection is miraculously multiplying and who knows, one day, might even overtake the hellish lot in Kaunas.
If you are craving a spa weekend in Anykščiai, there are a few wellness hubs that offer professional treatments for your body and soul.
Spa Vilnius Anykščiai: The same owners as the spa Vilnius Druskininkai. Their treatments include hydrotherapy, spa rituals in Hamam and Sauna, massages, and facials to name a few. Exceptional experience. Address: Vilniaus g. 80, 29142 Anykščiai.
Traditional Lithuanian food
Lithuanian cuisine is very simple, mostly consisting of root vegetables, meat, and dairy. Due to the colder climate, the dishes can be pretty heavy.
Vegetarian cuisine is still a fairly new concept. But more and more restaurants are offering non-meaty options which are good to see.
It's unfortunate, but good high-quality restaurants are still hard to come by across the country. However, since Lithuanians started travelling more, they are now bringing new ideas home from around the world.
It is really encouraging to see places offering fresh and simple fare instead of exotic, badly prepared dishes, which were plentiful in recent years.
But since you are on a quest to discover Lithuania, here are a few authentic Lithuanian dishes for you to try. Some are not from Lithuanian origins, but rather inheritance from the Soviet era.
Savoury Dishes
Bulviniai Blynai (potato pancakes): These are my favourite. The pancakes are made from freshly grated or boiled and then mashed potatoes depending on which part of Lithuania you are visiting. Pan-fried, they are usually served with a dollop of fresh cream and crackling sprinkles.
Žemaičių Blynai (potato pancakes with meat): Similar to the regular potato pancakes, but stuffed with meat.
Kugelis/Bulvių Plokštainis (potato bake): Again, made from potatoes, but this time baked in the oven. Very heavy, but tasty. It can contain bits of pork but is usually baked plain.
Cepelinai (potato dumplings): This is the ultimate winter dish - comforting and appropriately heavy. Similarly to the potato pancakes, it's made from grated or boiled mashed potatoes. The mix is then formed into a 'zeppelin' shape and stuffed with mincemeat, usually pork. Then boiled and served with a dollop of fresh cream and crackling.
Try the 'Yesterday's Dumplings': It's the same dumpling but pan-fried until crisp. Yum!
Less available in restaurants, but a nice alternative to meat can be dumplings stuffed with cottage cheese or mushrooms.
Balandėliai (stuffed cabbage): This might sound weird, but they are very nice and easy to eat. It's a dish made from boiled cabbage leaves which are then stuffed with mincemeat and boiled rice mixture. They are then stewed until the meat is cooked. Served with a rich cream sauce.
Kastinys (Samogitian sour buttercream): I especially encourage you to try this traditional Lithuanian dish. It is usually served as a starter with hot boiled potatoes. Delicate and absolute gorgeous dish.
Kastinys is made from natural sour cream, buttermilk and butter, flavoured with spices and garlic. The ingredients are expertly mixed together on low heat until the mixture turns into a creamy butter-like consistency.
Cibulynė (cold onion soup): This cold soup is common in the western part of Lithuania. It's made from onions, herring, peppers, and vinegar and served with hot boiled potatoes.
Šaltibarščiai (cold pink soup): Another cold soup. It's pink because it's made from beetroot! To me, as a Lithuanian, there's nothing better than a cold pink soup on a hot summer's day.
The pink soup is made from kefir (a yoghurt-like drink), beetroot, cucumber, spring onions, dill and topped with a boiled egg. The taste and consistency vary regionally. The soup is usually served with hot boiled potatoes.
While Charlie still can't get his head around this soup, to me it's a match made in heaven.
Kepta Duona (deep-fried bread): A very popular beer snack all over the country. The black rye bread is cut into strips, deep fried and then served with minced garlic and melted cheese. Recently, many restaurants and bars started serving it with cottage cheese cream on a side which actually is refreshingly tasty.
Sweet treats
Šakotis (Lithuanian - Polish spit cake or a Spruce-tree cake): The nation's favourite. No wedding in the country will take place without this delicious spruce tree looking cake. And rightly so, it's absolutely delicious.
The making process of this the cake is the most fascinating. The batter is made from simple ingredients such as butter, egg whites and yolks, flour, sugar, and cream. Then the cake is cooked on an open fire by pouring the batter on a rotating spit.
These days the shapes of the cake may vary and can be decorated with chocolate and sugar flowers. For our wedding, we had this traditional Lithuanian cake in the shape of a basket, which was filled with sweets.
Medutis (Honey cake): Another nation's favourite. Inherited from the Soviet era, it is a layered (sometimes as many as ten layers) cake that takes time to be made. But if made properly, it has no competition.
Napoleonas (Napoleon cake): If you see it on the menu, do try a piece. This is another cake which requires careful assembling of the layers resulting in flaky and creamy, Mille-feuille like dessert.
Grybukai (mushroom-shaped gingerbread biscuits): This is my ultimate childhood dessert and you must try them if you see Grybukai (little mushrooms) when discovering Lithuanian food during your visit.
Traditionally they are baked in a stovetop cast-iron pan with mushroom shapes (hence the name). But you might also come across shapes such as strawberry and chestnut. They are then coated in chocolate and sweet and sour icing sugar. I can never resist.
The Currency
The currency in Lithuania is euro (€) as of 1st January 2015, be sure to have some euros handy if travelling to Lithuania from a non-euro zone. ATMs are readily available if you run out of cash and the popular cards such as Visa or Maestro are very widely accepted.
The climate
Summers can be nice and warm with temperatures reaching +25C and up, but can be cold and rainy at only +16 on some days.
The cold season in Lithuania can start as early as November and last till April, in extreme cases even till May. Temperatures can dip as low as -20C during deep winters.
The best time to visit Lithuania, aside from beach holidays, is September - October. The temperatures at this time of year are usually very pleasant. October can be especially eye-pleasing with the burst of autumnal colours covering parks, fields, and forests.
July - August months are the most favourable summer months for the sun seekers. During hot summers, the sea temperatures can get up to around +21C at its warmest.
Of course, prices will be at their highest and accommodation at a premium ding this time!
Lithuania travel guide - visas
Lithuania joined Schengen in 2007 and has been an EU member state since 2004. Therefore, EU citizens can visit Lithuania and stay here for an unlimited period but are required to register with the local authorities after 3 months.
Australian, Canadian and US nationals may stay for up to 90 days without a visa.
All other citizens must apply for a visa before visiting Lithuania.
Transport in Lithuania
Flights to Lithuania. There are 3 major airports in Vilnius, Kaunas, and Palanga.
Vilnius International Airport (VNO) located only 5.9 km south of the city is within easy reach from the city centre.
Ryanair operates regular non-stop flights to Vilnius from most of Europe. Additionally, Wizz Air, Air Baltic, SAS, Lufthansa, Turkish Airlines, Finnair and Norwegian airlines operate non-stop flights to/from Vilnius.
The newly refurbished Kaunas International Airport (KUN) is a base for Ryanair and Wizz Air airlines which operate direct flights to 15 European cities to/from Kaunas.
The airport is located 14 km northeast of the Kaunas city centre and 100 km west of the capital Vilnius.
The following airlines are operating direct flights to Palanga International Airport (PLQ): Baltic Air (Riga, Latvia), Norwegian Airlines (Oslo, Norway), SAS (Copenhagen, Denmark), UIA (Kiev, Ukraine), LOT (Warsaw, Poland).
Railway Journeys. Lithuania has a long-established railway system which runs across the country and has direct links with Latvia, Poland, Belarus, and Russia.
The most popular routes are Vilnius - Kaunas, Vilnius - Klaipėda, Vilnius - Trakai, Vilnius - Moscow, Vilnius - Minsk.
However, unlike in countries such as the UK, sometimes taking train journeys will take you longer to reach your destinations than taking a bus. Some trains can be quite slow but they are being gradually upgraded.
For more information or to book tickets online, you can try this user-friendly Lithuanian Railways website.
Bus Journeys in Lithuania. The bus network is well-developed in Lithuania linking all the major cities and smaller towns in the country. For bus times, routes and tickets online, check out this handy bus website.
Road Trips in Lithuania. The road is the fastest way to get to your destination. The main roads in Lithuania are well-maintained and signposted. For easy access to your chosen destination, renting a car at the airport is advisable.