Rouen, the capital of Normandy, is a perfect destination for an exciting day trip any time of the year. It is conveniently located just over an hour's train ride from Paris.
Often called a mini Paris, Rouen packs a punch with its rich culture, delicious cuisine, and charming atmosphere. This place has plenty to see and do, but less crowded than Paris.
Don't miss the chance to visit the cathedral that inspired Claude Monet's paintings and stand on the site where Joan of Arc met her tragic end. If you need more inspiration for your visit, check out our list of must-do activities below.
Bookings: Some of the links in this article are affiliate links. This means that if you choose to make a booking, we will receive a small commission at no extra cost to you. Thank You!
How much time do you need in Rouen?
Thanks to its compact size, Rouen is perfect for a day trip. However, if you want to fully enjoy all the amazing museums, delicious food and experience the city at night.
I recommend spending at least two days there. Don't forget to try the local speciality, "canard à la rouennaise," a delicious duck dish.
Top things to do in Rouen, France in just one day!
One of the best things about Rouen is that everything is conveniently located close to each other, making the city easy to explore on foot.
Plus, there are plenty of fantastic food, coffee, and pastry shops to take a break and relax when sightseeing becomes tiring.
Now, let's go check out the exciting sights of Rouen!
Discover the history of Joan of Arc at Tour Jeanne d'Arc
We recommend visiting the Tour Jeanne d'Arc to start your day in Rouen.
This tower is the only remaining piece of the mediaeval Rouen castle where Joan of Arc was held captive before her tragic fate in 1430 (15th Century).
Despite being burned at the stake for heresy at 19, Joan of Arc's legacy as a French heroine continues throughout the city.
Our guide lists two monuments dedicated to her honour.
The tower is located on the left-hand side between the station and the Musée des Beaux-Arts de Rouen. There is a small exhibition about Joan of Arc and the castle at the tower, which you can access via the rue du Bouvreuil.
After visiting the tower, we suggest checking out Musée Le Secq des Tournelles, one of the quirkiest sights to see in Rouen.
Have you ever imagined visiting a 15th Century church filled with wrought iron artwork from all over Europe? If so, you should definitely check out Musée Le Secq des Tournelles in Rouen.
This Gothic-style church of Saint-Laurent is home to an impressive collection of 14,000 iron pieces, including shop signs, decor items, locks, and sewing tools, all beautifully displayed in glass cabinets across two floors.
Even if you're not a big fan of iron art, Musée Le Secq des Tournelles is still a fun place to explore and take photos. The combination of natural light from the tall church windows and LED lamps creates an otherworldly atmosphere.
The collection began in 1865 when French photographer Jean-Louis-Henri Le Secq Destournelles developed an interest in wrought iron art while taking photos of various monuments for assignments.
Later, his son donated the entire collection to Rouen's city, where it now resides inside the dramatic setting of a church.
The best part? It's free to enter and located next door to Musée des Beaux-Arts de Rouen and the central train station, making it a convenient stop on your Rouen itinerary.
Savour masterpieces at the Musée des Beaux-Arts de Rouen
You don't have to be an art expert to appreciate masterpieces by Monet and other painters from the 16th-20th Century. And since it's France, it's only appropriate to indulge in cultural attractions.
Founded in 1801 by Napoleon I, the fine arts museum is one of the most visited fine arts museums in the country. The 63 spacious rooms here display a permanent collection with occasional temporary works from various artists.
From sophisticated fine arts to a gloomy past, the city doesn't fail to impress (or spook). From all the things to do in Rouen, this next one is surely the grimmest?
Visit the mediaeval Plague Cemetery
If you're seeking unique things to do in Rouen, check out Aître St-Maclou on Rue Martainville, just beyond the grand Aître Saint Maclou church.
This site serves as a mass grave for victims of the Great Plague from 1348 and is one of the few remaining examples of a mediaeval plague cemetery.
As soon as you step into the serene courtyard, you'll be greeted by captivating half-timbered structures designed in Romanesque fashion.
At the same time, you'll discover walls decorated with carved skulls by the gravediggers, making this a hidden gem in Rouen not to be missed.
Admire the ornate church of Saint-Maclou
When you visit Rouen, you'll be hard-pushed to miss this impressive Roman Catholic church in the old town. It's a stunning example of French Gothic architecture, and you can get a great view of it from the bustling cafes in Place Barthélémy.
Beautiful half-timber Norman-style buildings surround the church, but its sheer size makes it challenging to take a clear photo of the restored facade. Be sure to bring a wide-angle lens to capture the church's grandeur.
Dedicated to Saint-Maclou, it was used as a weapon factory during the French Revolution, but restored and reopened as a church in 1802.
Explore the fascinating Musée Flaubert d'Histoire de la Médecine
If you enjoy discovering unique places during your travels, you might find the Musée Flaubert d'Histoire de la Médecine interesting.
It's the birthplace of French novelist Gustave Flaubert and was once a hospital where his father worked as a surgeon.
Therefore, the museum combines literature and 18th-19th Century medical facilities, featuring a reconstructed pharmacy, dental surgery, and herb garden.
Inside, you'll find a collection of unusual and eerie medical equipment, patient beds, and a female dummy from the 18th Century that depicts the birthing process.
The dummy was used to educate midwives about potential childbirth complications.
Spot Gros Horloge, the oldest clock mechanism in Europe
The Rue du Gros-Horloge is a bustling shopping street that is home to the Gros Horloge, an impressive astronomical clock from the 14th century.
This clock mechanism, crafted in 1389, is one of the oldest still functioning in France and Europe. If you have time, you can visit the belfry and explore the dial room and clock, which offer stunning panoramic views of the mediaeval city of Rouen.
The Renaissance clock in the arch above the lively street is rich in symbolism, featuring details such as moon phases and a starry night. At the same time, sheep represent the significance of wool production to the city's wealth and prosperity.
Continuing past the clock, you'll find a majestic Gothic church that inspired Monet's series of paintings in the 1890s. This church is not just another ordinary one in Rouen; it holds a quirky surprise waiting to be discovered.
Find Joan of Arc's execution spot
In the capital of Normandy, there is an intriguing church called St. Joan of Arc with a unique shape resembling an upturned boat, a common feature in old Norman churches.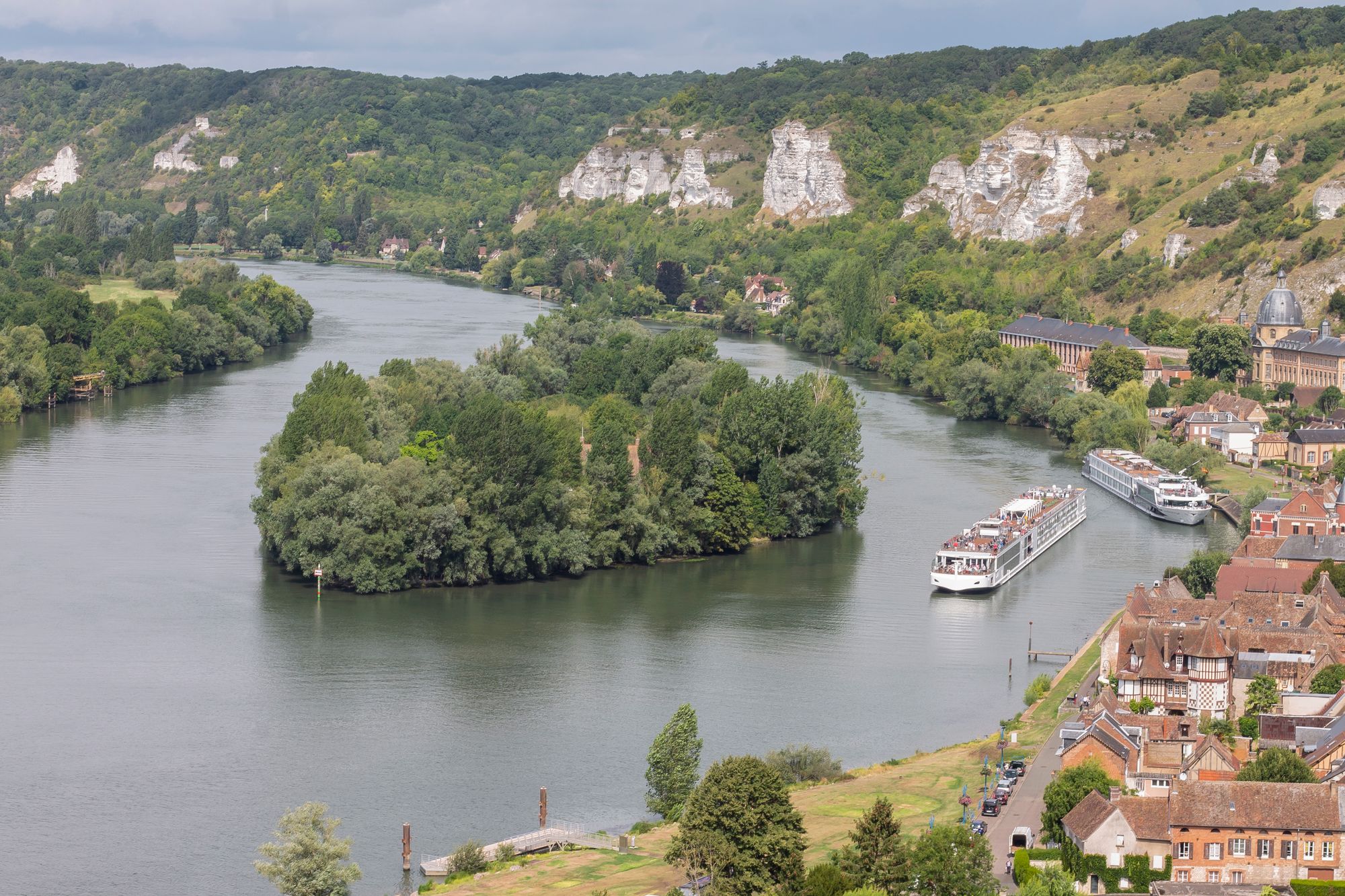 The church is at Place du Vieux Marché, the old market square, and features stunning stained glass windows depicting biblical stories.
Interestingly, these glass pieces were taken from the old St. Vincent Church, demolished during the 1944 war. However, the church is renowned for more than just its stained glass among city visitors.
Look to your left at the entrance, and you'll see a statue that marks the exact spot of the ruthless execution of 19-year-old Joan.
On a more cheerful note, La Couronne, the oldest restaurant in France, is located in the same square. It's also where Julia Child, a well-known American chef, discovered her passion for French cuisine.
Visit Rouen Cathedral, a masterpiece of French Gothic architecture
Rouen Cathedral, also known as Notre-Dame Cathedral of Rouen, is an exquisite example of French Gothic architecture. It has been admired and celebrated by generations of artists, including the Impressionist master Claude Monet, who captured it in his unforgettable paintings.
Completed in the 16th century, the cathedral's façade is a marvel of intricate carvings and sculptures, a true testament to the skill and artistry of its creators. At night, the city offers a splendid light show that illuminates the cathedral and surrounding area.
The interior is just as breathtaking, with a Renaissance-era stained glass window, the "Rose Window," and a magnificent Gothic organ among its many treasures.
After surviving the ravages of time, the Wars of Religion, the French Revolution, and even the Second World War, this cathedral is a must-see.
A visit to Rouen would be incomplete without experiencing the grandeur of this stunning piece of architecture.
Embark on a quest for King Richard's mummified heart
While exploring Notre Dame de Rouen, watch for the sarcophagus of King Richard the Lionheart.
When the courageous king passed away in 1199, his heart was removed, preserved, and buried separately at the Rouen Cathedral, a common practice in the Middle Ages. In 1838, during an excavation, his heart was discovered in a small lead box beneath the funerary effigy.
Unfortunately, due to severe decomposition, it was impossible to determine the exact cause of King Richard's death, though it is believed that a poisoned arrow killed him.
However, the research did reveal some interesting details about the embalming process. The heart was embalmed with spices and plants, such as frankincense, and wrapped in a linen cloth soaked in myrtle, daisy, and mint, a symbolic process used for the embalming of Jesus Christ.
Mercury was also used to prevent decomposition, but it could not withstand the test of time for over 800 years.
Once you finish admiring the magnificent Gothic masterpiece, relax on one of the large seats outside in front of the cathedral. They are surprisingly comfortable and provide a stunning view of Notre Dame de Rouen towering above.
Relax at Jardines des Plantes
Of all the things to do in Rouen, visiting Jardines des Plantes is well worth the effort if you love parks and gardens. While it may require a bit of walking, it's a great option if you're feeling adventurous. The garden is in the lively south Rouen area, approximately 3km from the old town.
Once you cross the bridge, you'll be greeted by a different side of the city, full of energy and local crowds. Although the streets may not be as picturesque as the old town, the garden is a hidden gem dating back to 1691 and has had many owners, including Napoleon. It boasts an impressive collection of plant species from around the world.
Although there is a snack bar and a carousel ride for kids in the park, you can still bring a packed picnic for a lovely lunch. The garden also offers a serene shaded walkway with comfortable benches, ideal for unwinding.
Walk the Banks of the Seine
Finally, a great way to wrap up your Rouen visit is to take a leisurely stroll along the Seine River. Like Paris, the river divides the city into two sides, the right and left banks.
Each bank has its unique offerings. The right bank is a popular spot for locals and home to the Maritime Museum and Panorama XXL, a large cylindrical structure showcasing contemporary art installations.
The left bank is perfect for picnics in the green spaces and boasts Le 106, a waterfront music arena.
Fortunately, crossing between the two sides is easy due to the numerous bridges connecting them.
Paris to Rouen - how to get to Rouen by train
Travelling from Paris to Rouen is a breeze.
Simply head to the Gare Saint Lazare station in Paris to catch a train to Rouen. Trains run frequently throughout the day and take just over an hour to reach the central train station in Rouen, Gare de Rouen-Rive-Droite.
We suggest downloading a train booking app from oui.sncf. onto your mobile device to purchase tickets. This allows you to save your tickets as m-tickets - no need to print or collect them.
Buying tickets at the station can be more expensive, and purchasing them on the train can cost up to three times as much.
While travelling by car takes just under two hours, depending on traffic, we recommend taking the train so you can explore Rouen on foot. For the ultimate experience, consider booking a tour around Rouen with a local.
Is Rouen in France worth visiting?
In my opinion, yes, definitely. Rouen offers many fun, free, and unique activities. For instance, the magnificent Notre-Dame Cathedral is a must-see.
The city also boasts a one-of-a-kind light show that illuminates the cathedral and surrounding area at night.
I would gladly revisit Rouen and all its stunning sights.