It's baffling how with so many amazing, quirky and wonderful things to do in Chiang Rai, the place still gets overlooked for its more prominent brother to the south, Chiang Mai.
Located in the far north of Thailand, Chiang Rai province is a fantastic destination for travellers who are after a chill vibe but still with lots of attractions in and around the city.
Bookings: Some of the links in this article are affiliate links. This means that if you choose to make a booking, we will receive a small commission at no extra cost to you. Thank You!
10 best things to do in Chiang Rai
Dubbed as a sleepy town, Chiang Rai has more than one surprise up its sleeve. From the artistic White Temple and contemporary Black House to refreshing waterfalls and tea plantations, there are several interesting places in Chiang Rai you won't want to miss.
The city is also a perfect base from which you can get direct access to the Thai-Laos border, and we will tell you all about it further down the line. But first, here are the 10 top things to do in Chiang Rai and beyond for your itinerary.
1. Get Blinded by the White Temple
First up on our list of the most exciting places in Chiang Rai is Wat Rong Khun, the White temple. There's nothing quite like it in the whole country. Sitting just to the south of Chiang Rai the dazzling White Temple is hard to miss.
Designed by the Thai artist Chalermchai Kositpipat and constructed at the cost of $ 1m, Wat Rong Khun is not your usual Thai temple.
You enter the temple over the bridge of the "cycle of rebirth" with masses of stone hands reaching up towards you like a bad dream. This represents unrestrained desire which you must forgo if you are to be truly happy. You then pass through the "gate of heaven" and up the steps inside the temple.
Inside, the contrasting dark modern mural designs depict the 'evils' of humanity including Mickey Mouse and Harry Potter. It's weird, symbolic and something you shouldn't miss during your visit to Chiang Rai.
The best way to reach the White Temple is by hiring a scooter; there are plenty of motorbike hire shops in the city. Read our post for more details on visiting the weirdest temple in the country.
Alternatively, you can arrange a day trip from Chiang May and visit both the White Temple and the infamous Golden Triangle.
2. Sip tea at the Choui Fong Tea Plantation
Sipping tea and devouring sweet treats infused with green tea at the Choui Fong tea plantation must be one of the most fabulous things to do in Chiang Rai. We certainly thought so when we decided to make the trip on our motorbike to Choui Fong Tea Plantation.
We weren't disappointed. Located approx 40 km north of the city, the site is a joy to explore. You get to walk through the tea shrubs arranged in swirly patterns at the plantation, pick up a woven basket and pick some tea leaves.
Best of all, you get to drink fresh tea at the restaurant and cafe with a fantastic view overlooking the estate. My green tea tiramisu was a delight.
3. Go over to the dark side at the Black House
Talking about weird stuff in Thailand, visiting Baan Dam, the Black House Museum might be one of the most mysterious things to do in Chiang Rai.
Created by Thawan Duchanee, Kositpipat's student, darkness and death is the central theme surrounding the complex. Here you'll find several black structures with animal remains arranged in somewhat spooky but intriguing patterns.
Although dark and moody, the Black House Museum is a beautiful and peaceful place to visit, but come here as early as possible, before 11 am to avoid the crowds.
4. Enter the Monkey Temple, if you dare
Chiang Rai province truly is a weird and enjoyable place to explore and visiting Wat Tham Phra is another must-do in Chiang Rai. A tribe of some fierce macaques closely guards the Cave Fish temple, hence the adopted name, 'Monkey Temple.'
Prepare for bats, disturbing 'hell garden', dim tunnels and musty stairs leading to the fish cave and the dark Buddha cave. But in the end, amidst the darkness and moss, a steep staircase will lead you out onto the balcony for some lovely panoramic views.
5. Splurge at Chivit Thamma Da coffee house
If luxury things to do in Chiang Rai are on your list, then head to the elegant family-run Chivit Thamma Da Coffee House & Bistro.
Located on the banks of the Kok river, it serves excellent food and offers a fabulous shaded hideout from the busy streets.
It won't be cheap to eat here, but if you need comfort food, hearty breakfast, morning coffee or mouthwatering smoothies, you'll be in the right place.
6. Refresh at Khun Korn Waterfall
Out of these ten best things to do in Chiang Rai and beyond, nature enthusiasts will appreciate the lush and well maintained Khun Korn Forest Park the most. With forest trails and the refreshing Khun Korn Waterfall, the nature park is a great place to chill.
As you approach the base, enjoy the cooling mist coming from the fall dropping 70 meters down into the pool below. It's a popular spot for a swim, but mind the steps, the rocks are very slippery here.
Before you take off, be sure to wear comfortable footwear as the distance between the entrance and the waterfall is around 1,400 m.
7. Eat at night bazaar and food courts
Night markets are a chill affair; vendors here are friendly and don't hassle much. So for things to do in Chiang Rai at night, make your way to the night bazaar just off of the busy Phaholyothin Road in the city centre. It's open every evening from 6 pm and offers a great variety of Thai dishes for every taste and budget.
You'll also find a couple of food court areas in town, both with a stage for live traditional dance performances each evening and plenty of well-priced food options.
The local food here varies from spring rolls and delicious hot pots of bubbling stock, veg and meat sitting over hot coals to fresh and juicy deep-fried seafood dishes.
8. Learn to cook Thai dishes
Out of all the things to do in Chiang Rai, or anywhere in Thailand, learning the secrets of the beautiful Thai cuisine is an invaluable experience. You'll find several cooking classes available in Chiang Rai, but if you are not sure, we can recommend Thai cooking class with Ann.
Learning to cook Thai dishes with Ann was so much fun. But the best thing was going to the local market where we bought fresh ingredients for our class and got to smell and taste some exotic foods along the way.
9. Climb the 9 Tier Temple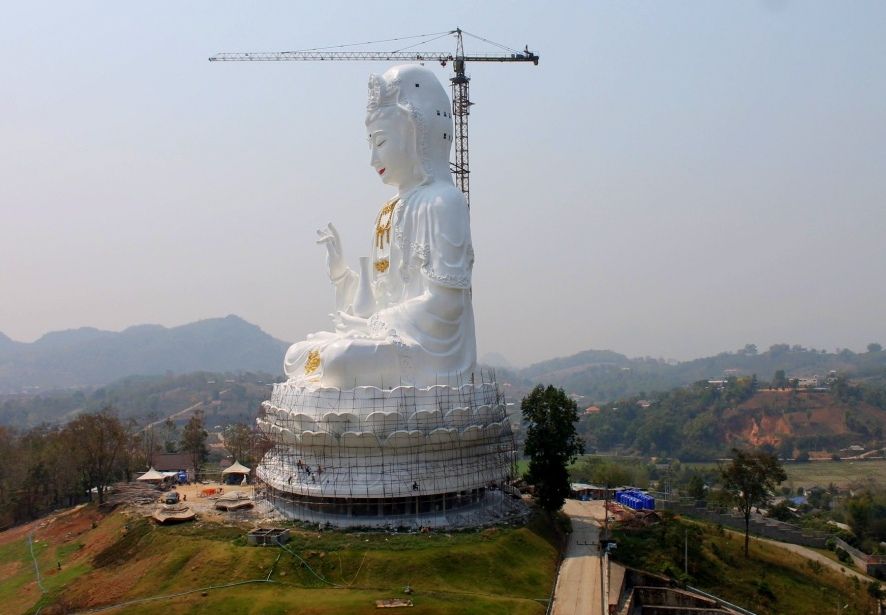 Prepare for more weird and wonderful things to do in Chiang Rai coming your way - the 9 Tier Temple and a giant white female sitting Buddha statue overlooking the valley below.
The sheer size of this impressive statue is overwhelming.
For fantastic panoramic views across the countryside, leave your shoes at the entrance and climb the nine flights of stairs to the top of the Huay Pla Kang Temple.
If you are planning to visit this must-see Chiang Rai attraction, remember to dress modestly.
10. Discover secrets of the opium trade
Located in the mountains of the Indochina peninsula, the Golden Triangle is where Laos, Myanmar and Thailand meet. In the 1950s-1990s, the Golden triangle was the hot spot of the opium trade. Today, it's the second-largest producer of the substance after Afghanistan.
Aside from a scenic boat ride along the Mekong River, you can also visit Opium House, a small museum showcasing tools used to plane and produce drugs and the Hall of Opium.
The latter is a more extensive museum with interactive zones educating visitors about all aspects of the illegal opium trade and the consequences it has on the local community.
Chiang Rai travel tips
Getting to Chiang Rai
By air - To save time, you can fly directly to Chiang Rai from Bangkok. A flight from Bangkok to Chiang Rai takes just over 1 hour.
By rail - To get to Chiang Rai via rail, jump on the train from Bangkok to Chiang Mai and then take a bus onward.
By bus - The cheapest option is to take a bus from Bangkok to Chiang Rai, but it takes around 12-14 hours to get there.
Top Tip: To find the best prices for air or bus travel in Thailand, we would recommend using the locally-based travel website called 12go.Asia.
We used this site to book most of our journeys in Southeast Asia. Best of all, you can just show any ticket on your smartphone when boarding your train/bus. That saves any running around to find a place to print your vouchers!
Try their site via the search box here. Simply pick your travel date for a full page of travel options in Thailand and beyond.
How to Cross the Thai - Laos Border
As promised, here's everything you need to know about crossing the Thai - Laos border:
To get to the border, you can take a bus going towards Chiang Khong. The journey takes around 2 hours, and you can pay for your ticket onboard.
Visa costs vary depending on which country passport you are travelling with. For us, it was $5 cheaper to cross the border with the Lithuanian passport than with the British one ($35) and for the Canadians just before us the stamp cost over $40.
To cross the Thai border over the bridge, you'll need to take a mandatory bus so make sure to have some spare THB.
When you reach the Laos border, you'll want to get to the nearest town, Huay Xai. The Tuk-tuk drivers here seemed pretty fixated on ripping us off when we tried to get into town, but a walk uphill is a long one.
See if any other travellers are around and try to negotiate a group price. For more details, read our how to travel from Chiang Rai to Laos article.
As a side note, Huay Xai is the perfect place from which you can take a relaxing 2-day slow boat tour down the mighty Mekong River to stunning Luang Prabang.
Where to Stay in Chiang Rai
Chiang Rai is abundant with places to stay but be sure to check availability on Booking.com or Airbnb before travelling to choose the best place for you.
But if you are after unique experiences, try looking for a local homestay with cooking classes and learn to cook delicious Thai food.
Read more about Thailand: Patong Town, Phuket, Thailand