Today's Vietnam is a busy, noisy one, racing to catch up with the progress of China to the north and Thailand to the west. And while it can be confusing and annoying at times, you'll soon discover a country with a rich and painful past looking towards a bright and hopeful future.
Unfortunately, the famous conflict of the '60s and '70s still dominates in any Google search you make for Vietnam but there's so, so much more to explore here.
In this guide, we've handpicked the top 31 things to do in Vietnam so that you can have a better idea of the best places to see in the country. We'll start with Hanoi in the north and finish with HCMC and the Mekong Delta down south.
Bookings: Some of the links in this article are affiliate links. This means that if you choose to make a booking, we will receive a small commission at no extra cost to you. Thank You!
The Best Things to Do in Vietnam
We visited Vietnam for 3 months and even ended up living halfway along its coast in the beautiful town of Hoi An for just shy of 2 months.
As you explore, you'll find that one of the best ways to travel between the places is to use the efficient Vietnamese train system. Built by the French, it stretches the full length of the country and stops at the major cities and towns mentioned in this guide.
Here's our take on the best things to do in Vietnam.
1. Sample the Best Coffee in Hanoi
The buzzing Hanoi has a wealth of history, food and fantastic coffee to make it worth staying for at least a few days if not more. And there's no better introduction to Vietnam than a sip of the most unusual coffee.
To make the most of your stay, among many other things to do in Vietnam's capital, head to explore the Old Quarter. Here you'll find some of the best coffee in Hanoi at the local cafes tucked away down numerous narrow passageways.
2. Go on a Street Food Tour in Hanoi
The second best way to get to know Hanoi is to eat your way through Vietnam's capital. Vietnamese food is delicious and flavoursome, but it can be very hard to know where and what to eat on your arrival in the country.
Therefore, the easiest way to find the best places to eat in Hanoi is to join a food tour right at the start of your visit. This way you'll get to know the local cuisine and discover your favourite dishes and the best local food spots.
Otherwise, if you are an adventurous eater, simply point to the menu to choose your dishes, or even better, eat the food prepared on the streets. You'll have many such options in the Old Quarter and beyond.
3. Visit Hanoi's Imperial Citadel & the Military Museum
Out of all the historic things to do in Hanoi, don't leave without visiting the ancient Imperial Citadel of Thang Long and the Vietnam Military War Museum. Both are located close to each other in the direction of the Ho Tay (West Lake) area to the north of the centre.
While the War Museum is one of the most popular places to visit in Vietnam, the Imperial Citadel should also make it to your list of the top things to do in Hanoi. Located in the heart of Vietnam, it's an 11th Century UNESCO World Heritage Site.
Constructed on the remains of the Chinese fortress, the citadel is home to stunning architecture, secret bunkers and peaceful surroundings.
4. Watch Water Puppet Show in Hanoi
If you're looking for the best things to do in Hanoi, consider booking a ticket to see the iconic Water puppet show.
Dating back to the 11th century, water puppetry originated in north Vietnam. The tiny puppets are lacquer to make them waterproof and have a wooden stick attached to them making it easy for the puppeteers to move them in the water.
To see the show head to Thang Long Water Puppet Theatre in Hanoi. For the best experience and the best seat, pre-book your skip-the-lines ticket in advance.
5. Trek Rice Fields in Sapa
Tucked into the far north-west corner of Vietnam, close to the border with China, you'll find the picturesque alpine-style town of Sapa.
Set in a stunning mountainous region, the town sits at around 1500m above sea level with great viewpoints all around. Most visitors come here to trek amongst the rice terraces and along the winding valleys away from Sapa.
Trekking rice fields in Sapa is one of the most unique things to do in Vietnam that you don't want to miss. This area is still home to many hill tribes and the ladies from the local villages can act as your personal trekking guides. This can often include a homestay at one of the nearby mountain villages such as Ta Van.
The easiest way to get to Sapa is to take a sleeper train from Hanoi. Here's our detailed guide on how to travel from central Hanoi to Sapa via Lao Cai on a Vietnamese sleeper train and bus.
Also, you'll need some warmer clothes for this experience as the valley can be misty, cold and rainy.
6. Sail the Halong Bay
Around 170km west of Hanoi, the stunning Halong Bay area is one of the most beautiful places to visit in Vietnam. Home to around 2,000 imposing limestone islets towering out of the turquoise water, the bay is magical on a clear day.
Take a day trip from Hanoi, spend a longer stay on a boat in the bay or venture over to Cat Ba Island just across the bay.
7. Discover the Hospital Cave in Cat Ba
If you decide to venture to the lush island, you can take the ferry from Halong Bay and stay for a day or two. We found many intriguing things to do in Cat Ba on our visit.
The main attractions here include a gun fort with panoramic views, a nature reserve which you can explore by motorbike and the spooky but very interesting Hospital Cave.
The 3-storey bombproof cave used as a hospital during the Vietnam (American) war houses 17 rooms, including an old operating theatre and a natural cavern used as a cinema. Don't miss it.
8. Explore the Amazing Phong Nha Caves
When planning your things to do in Vietnam itinerary, don't miss the stunning Nha-Kẻ Bàng National Park, a UNESCO World Heritage Site. Set amongst the limestone karsts, it's home to five amazing caves close by, including the world's biggest cave (so they claim).
The latter, Thuy Cung Cave, will cost you $3000 for a 2-day trek, swim and camp in the cave. To book this specific caving expedition, contact the Tourism Centre in Phong Nha.
To explore the smaller caves, stay in the small town of Phong Nha. Some cave visits require booking in advance so read up before you go.
One of the most adventurous Chay River – Dark Cave, for example, can only be explored with a guide. The tour involves zip-lining, swimming in the mud, and exploration of the cave with headlamps and other special equipment.
Said to be one of the most beautiful caves in Phong Nha (some claim in the world), the Paradise Cave can be explored independently. It's one of those places to see in Vietnam that's easy to reach and doesn't require any special equipment to explore.
9. Tour Hue's Imperial Tombs and the Purple City
Hue (pronounced 'hway') was once the capital of imperial Vietnam with power transferring to Hanoi in 1945, marking the end of imperial rule. Today you can explore what was once the inner sanctum known as the Forbidden Purple City.
Despite being decimated during the Vietnam War there is still plenty to explore thanks to an ongoing restoration project.
Alongside exploring the ghostly Purple City, be sure to hop on a bike to discover the ancient tombs of Hue or join one of the tours for convenience.
Former Emperors of Vietnam were buried in their own elaborate imperial tombs outside of the city and many of these can still be visited today. They are definitely must-see places in Vietnam to help understand the complex history of the country.
You'll find them in varying states of repair and tours tend to stick to the most restored, but those lesser-visited are worth exploring even more. We had a great time visiting the tombs on a motorbike and we had the more abandoned, harder-to-reach ones mostly to ourselves.
10. Walk Around Hoi An's Old Town
Clinging to the coast and almost marking the midway point of Vietnam you'll find the picture-perfect fishing village of Hoi An.
With its UNESCO status, the well preserved narrow streets of the old town area draw visitors here to experience a past vision of Vietnam. There's much to see and do in Hoi An's old colonial town so be sure to stick around for a couple of days if not more.
One of the best ways to experience Hoi An's beauty is to explore it at sunrise when the streets are still free from tourists. Take a seat at one of the street stalls and join locals for breakfast or coffee.
11. Update Your Wardrobe in Hoi An
As well as a charming UNESCO World Heritage Site, Hoi An is also one of the most reputable places to visit in Vietnam for updating your wardrobe with tailored garments.
It's a truly amazing experience to have something custom made for you. The tailors here are known for speedy delivery, high finish, and competitive prices.
Depending on the clothing you are after, it can take from 24 hours for shorts to a few days for a 3-piece suit to be made. And with tailors on-site, alterations can be made here and now. In our case, the pieces were made so well we didn't even need any changes.
If you can spare extra pennies, shop around for silk produce too. It's fabulous.
12. Witness Hoi An's Lantern Festival
If you can, time your visit to Hoi An with the monthly Full Moon Lantern Festival for a really memorable experience. This is when the Old Town falls into complete darkness, lit only by glowing paper lanterns.
For a few pennies, you can buy one and let it into the river for good luck. Hands down one of the most magical things to see in Vietnam.
13. Go See My Son Temples in Hoi An
When visiting Hoi An, take some time to visit a complex of Hindu temples dedicated to the god Shiva. Erected in the 4th-13th century, earlier than the Angkor temples, it's a site that celebrates the unique Champa Kingdom that occupied coastal Vietnam at the time.
Built by the fire bricks and featuring Hinduism mythology, the temples showcase the spiritual and political life during an important chapter of the history of the Southeast Asian region.
Although the site suffered damages during WWII and the Indo China war, it has been especially badly damaged by the American troops during the Vietnam (American) war. Only a few of the remaining tower-temples survived the air raid and can be visited today.
14. Have a Beach Day in Da Nang
Just an hour away from Hoi An, you'll find the thriving city of Da Nang. It's home to the country's 3rd busiest airport, modern shopping malls, good nightlife and restaurants. There's a lot to like and it's certainly worth exploring.
Plus it boasts one of the most picturesque stretches of sand in the country. Named My Khe Beach by the American troops during the war it's is a stunning white-sand coastline. Home to many luxury resorts, it was voted as one of the "most attractive beaches on the planet" by Forbes.
15. Walk Through the Red and White Sand Dunes in Mui Ne
Further south from Da Nang, on the coast of the South China Sea, Mui Ne is another beach destination that you'll want to explore when visiting Vietnam. The white-sand beaches, clear waters and good wind conditions attract many water sports aficionados as well as sun-seekers.
Both Ganh and Suoi Nuoc beaches are studded with resorts and restaurants if you are looking to have some downtime on the coast.
But the most impressive part of the area is the giant white and red sand dunes. The white sand dunes are the most popular with plenty of activities such as quad bike rides available for adventurous travellers. The dunes are also the only place in Vietnam where you can have a hot air balloon experience.
16. Cross the Golden Bridge in Ba Na Hills
Located in the Truong Son Mountains west of Da Nang, the Golden Bridge is one of the latest additions to the list of things to do in Vietnam.
'Cau Vang', the 150-meter long pedestrian bridge supported by two giant god's (apparently) hands have been designed purely as a tourist attraction. It connects the cable car station with the Jardin D'Amour gardens in the Ba Na Hills.
The cable car is an attraction in itself dangling above the East Sea and the colonial French resort. Stretching 5,801 meters in length, it's the longest non-stop track in the world.
17. Trek Lang Biang in Da Lat
Nestled in the central highlands of Vietnam, Dalat is a welcome break from the high humidity of the lowland areas. The cooler climate gives it a slightly European flavour and the French colonial architecture now sits jumbled alongside a slew of modern shopping malls and hotels.
Here you can enjoy the best of south-east Asia outdoors from hiking and climbing to canyoning. When it comes to active and adventurous things to do in Vietnam, hiking the tallest peak in Da Lat is one of them.
At 2,167 meters above the sea, Lang Biang mountain is one of the best-hiking destinations in the central highlands.
The trek, depending on your fitness level, can take up to 3-4 hours to complete due to its steep incline, but isn't too strenuous. Take it easy if you're not used to hiking though, wear comfortable footwear and bring lots of water with you.
18. Take a Train to Linh Phuoc Pagoda
For a more relaxed activity in Da Lat, one of the standout attractions is the heritage railway line. At 1,500 m high, it's the highest railway station in Vietnam.
Resembling the Trouville-Deauville Station in Normandy, Ga Da Lat serves Lam Dong Province and conducts daily trips to Trai Mat village and the remarkable Linh Phuoc Pagoda.
Due to its 49-meter-long dragon temple constructed of 12,000 beer bottles, the impressive Linh Phuoc Pagoda has earned an accolade as the special architectural mosaic of Da Lat. It's probably one of the quirkiest things to see in Vietnam.
19. Stay at the Crazy House in Da Lat
Talking about quirky things to do in Vietnam, staying in the Crazy House is as unusual as it gets in Da Lat. The art gallery and a guest house that looks like a giant tree trunk was built by a Vietnamese artist and has 10 themed rooms. Each represents a wild animal and can be rented for just under $100 per room per night.
20. Take a Scenic Cable car in Da Lat
The mix of weird and wonderful attractions makes Da Lat one of the most unique places to visit in Vietnam. But Da Lat is so much more than just bizarre things to see and do.
The nature surrounding the city is beautiful and you could see a fraction of it by taking a cable car up to a monastery above Da Lat.
Below the Truc Lam Pagoda, across the fresh pine tree forest, you'll reach the Valley of Love. The park is especially loved among local couples, therefore, expect to see many photoshoots. Nonetheless, a beautiful place to spend an afternoon and escape the noisy city.
21. Refresh at Elephant and Datanla Falls in Da Lat
Carrying on the nature theme, have a refreshing day at the impressive Elephant Falls 30 km outside of Da Lat. Be sure to wear comfortable footwear and beware of the slippery rocks.
To reach the waterfall, join an organised tour, hire a motorbike or jump on a local bus going to Nam Ban village at the bus stop next to the central market in Da Lat. And remember to ask the driver to stop at Thac Voi (Elephant Falls).
Alternatively, if 30 km is too much of a stretch, you could cycle to the famous Datanla Falls just 5 km outside the city. Don on your swimwear before you go and have a revitalising day out in the natural surroundings.
22. Hear Gibbons Singing at Sunrise in Cat Tien
Just off the main highway around halfway between Dalat and Ho Chi Minh City you'll find the peace and tranquillity of Cat Tien National Park. It's over 72,000 hectares of the wildly diverse park offering a range of safaris and hikes for visitors.
You can stay on the riverside and venture into the park in daylight hours or take a night safari. For one of the most memorable things to do in Vietnam, hike to see the gibbons wake up and sing with the sunrise.
There are limited accommodation options here so book ahead in the high season.
23. Climb the Bitch Dong Pagoda in Tam Coc
The town of Ninh Binh is located on the main rail and road links that run along the length of Vietnam. Jump off the trail here and head a short distance to the quaint village of Tam Coc close by.
It's a great place to relax for a day or two and it's easy to cycle to the nearby sights such as the secluded Bich Dong (meaning very green) Pagoda. Constructed in 1428, the legendary three-tiered shrine is classed as a Unesco World Heritage site.
Take your time to explore the pagoda and be prepared to climb a number of steps to reach the top. The temple is open all day and should be free to enter but you might get some cheeky locals asking for a small fee.
Lucky for us, we only paid a couple of dongs to park our bikes and walked in without any hassle.
24. Join a Feet-Rowing Boat Tour
Often called 'Ha Long Bay on land,' Tam Coc is best explored on a boat. With Ngo Dong River snaking through the lush rice fields, towering limestone karsts and caves, the surrounding scenery is jaw-dropping.
In recent years, alongside the stunning landscape, boats that the locals row with feet have become a major attraction in the area. The flourishing tourism industry in Vietnam brought large numbers of curious travellers to the mythical Tam Coc.
The development presented Vietnamese guides with a chance to earn a living from rowing boats along the river. But the daily rowing also led to painful backaches. That's when the locals invented boat rowing with their feet, which is surprisingly more effective than the traditional rowing technique.
You can either take a day trip from Hanoi or stay in Tam Coc for a couple of days to explore, which we highly recommend. The best way to reach the village is by catching a taxi from Nim Binh.
Most of the boat tours include a trip to Hoa Lu, the ancient capital of Vietnam, Tràng An and Mua caves which you can climb for fantastic panoramic views (on a clear day).
If you decide to stay in Tam Coc, you can catch a sampan boat at the picturesque Tam Coc lake where the local guides will row your boat with feet.
25. Crawl Chu Chi Tunnels in HCMC
Unless you have a severe phobia of being in tight spaces, visit Chu Chi Tunnels in HCMC. Used during the Viet Cong and the notorious Vietnam (American) war, it's a 121km network of interconnecting tunnels.
As you crawl through the living spaces, kitchens, storages and hospitals, you'll witness what it was like to live underground. The tunnels have since been increased in height to accommodate tourists.
26. Don't Miss the Reunification Palace in HCMC
Another unmissable attraction to visit in Ho Chi Minh City is the Reunification Palace. Also known as the Independence Palace, the government building is located in downtown Saigon.
Aside from beautiful gardens, war rooms and underground tunnels, it's best known for one of the most symbolic moments in Vietnam's history.
On 30 April 1975, the North Vietnam troops crashed a tank through the palace gates signifying the end of the Vietnam War. The tank is now on display in the Hanoi Military Museum.
27. Enjoy Vibrant Nightlife in HCMC
The troubled Vietnam of the past is brought crashing into the modern age in the cauldron of sights, smells and sounds that is Ho Chi Minh City. Even the briefest of stays here and you'll feel the energy of this lively metropolis embracing its bright new future.
We'd recommend heading out at night to soak up the city's atmosphere and enjoy a cheeky beverage or two. There are two main 'Walking Street' areas with a real buzz to explore.
Nguyen Hue Walking Street - this is a wide plaza area in the middle of District 1, with the beautiful City Hall at one end, stretching down to the river at the other. It's flanked on either side by some beautiful French colonial architecture and is a popular spot for locals to hang out in the evenings.
When we last visited at night time there were several folks whizzing around on flashy hoverboards or just sitting in groups and enjoying the vibe. Make sure you pop into the old tower block building at No.42. It's now full of funky cafes which provide the perfect spot to people watch from several floors above the street.
Bui Vien Walking Street - is the Saigon's equivalent to Bangkok's Khao San Road, packed with rowdy bars, spots to eat and regular offers of massages. It's a fun area to have a wander through even if loud music and cheap booze isn't your thing, just stay alert to the usual tourist scams on offer.
If you've had your fill of noodle dishes then we'd recommend Baba's Kitchen at No. 274 for some world-class curry dishes.
28. See HCMC's Skyline from the Sky Deck
To get a bird's eye view of the fast-paced city, head to the Bitexco Tower viewing platform. It's one of the tallest buildings in the city. You'll find it located in the heart of the financial district locally known as the 'Wall Street of Saigon.'
For the view head right to the top. For delicious coffee with a great panoramic view, stop at EON cafe on the 50th floor.
To see both daylight and the golden hour, visit the Bitexco Tower just before sunset. The entrance ticket costs $9 per person.
29. Admire the French Colonial Architecture in HCMC
When visiting HCMC, don't miss the French-influenced Notre Dame Cathedral and the striking Post Office building. The latter, built by Gustave Eiffel, is still in operation at full capacity.
Sending a postcard to your friends or family could be one of the fun things to do in Vietnam. Although the postcards are a little overpriced, it's not every day you get to send a message from Saigon.
Saigon's Notre Dame was built between 1863-1880 and is an unusual sight to see in Ho Chi Minh City. Mostly due to the fact that the materials to construct the cathedral were shipped all the way from France.
30. Explore Mekong Delta
The mighty Mekong river starts in the Himalayas and flows past China, Myanmar, Thailand, Cambodia and Vietnam. Here, it splits into smaller rivers known as tributaries slowly moving into the sea.
It's one of the most unique places to visit in Vietnam. With a tour or independently, spare at least two days to explore the wonders of the Nine Dragons River Delta.
From spectacular scenery, local villages, rice fields, and pagodas to orchards and floating markets, there's much to see.
31. Try Bia Hoi
This list wouldn't be complete without mentioning Bia Hoi, the fresh beer especially popular in northern Vietnam. Although we found it in Hoi An too.
Bia Hoi, also known as street beer is a weak draft beer that's brewed daily by the locals. It has a refreshing crisp taste and should be consumed within 24 hours since it doesn't contain any preservatives.
You'll find it on every corner in northern Vietnam, especially Hanoi. Squat on one of the tiny plastic stools on the street and give it a go. At $0.13 - $0.30 per glass, it can be cheaper than water.
Vietnam Travel Tips
Can You Use ATMs in Vietnam?
ATMs are readily available in major cities and towns but can be hard to come by in smaller places. If you're planning to spend a few days in more remote areas of villages then stock up on cash before heading off.
We did struggle with the withdrawal limit from most ATMs in Vietnam which is set at 2,000,000 VND per transaction, that's around $90 USD. Many hotels will accept only cash so this can soon disappear. If you can, seek out an MB Bank ATM which mostly allows you to withdraw 5,000,000 VND each time.
In the bigger towns and cities, you'll find places to exchange your money. Most banks will offer this service but don't forget to use a handy app like the XE Currency Exchange app to check you're getting a decent rate on the go.
Can You Use Bank Cards in Vietnam?
Many places will only accept cash and although card payments are becoming more commonplace, it's only in the main towns and cities that you'll be able to pay with a credit or debit card. This even applied at several hotels where we stayed so you can soon use up your cash reserves.
For most daily transactions cash is the way to go, just remember to break up the bigger notes at stores or your accommodation as most stalls and small shops will struggle to provide much change.
One benefit of the currency in Vietnam is the lack of annoying coins, there are several in circulation but thankfully no one likes using them and sticks to the notes instead.
Getting In and Around Vietnam
Getting to Vietnam
Air
Vietnam has 3 international airports in Hanoi, Ho Chi Minh City (Saigon), and Da Nang. Most of the direct international flights to Vietnam from Europe, the Americas and the Middle East are operated by Vietnam Airlines.
Boat
The only regular service operates from the Cambodian capital Phnom Penh to Chau Doc in the Mekong Delta. From there it's around a 6-hour bus ride to Saigon so of more use if you're exploring the Mekong Delta area first.
Rail
It is possible to travel down from China to Hanoi via train in a sleeper train or a more frequent service if you change trains at the border. As yet Cambodia and Laos have no connecting rail lines with Vietnam.
Bus
Buses operate from many of the major towns and cities across the border in Laos, Cambodia and China. Costs vary greatly depending on departure point so check with agents or your accommodation in the place you are travelling from.
Busses (coaches) can sometimes be a good way to cross land borders into Vietnam smoothly as the assistant on the bus will make sure you have the correct paperwork and deal with the guards for you. This reduces the risk of getting ripped off with mystery fees.
Getting around Vietnam
The 1650 km long S-shaped curve of Vietnam makes it very easy to navigate, with most visitors either travelling north to south or vice versa. Add to this the fact that the 2 main cities are polar opposites of the country, which is 50 km wide at its narrowest point, and you begin to see the well-trodden path many take.
Air
Flying is a great way to cover larger distances between the major cities in Vietnam. Vietnam Airlines, VietJet and JetStar Pacific are the main domestic carriers to check first. We found it's better to book directly with the airline for domestic flights to avoid any additional fees.
Domestic flights depart from Hanoi, Ho Chi Minh City, Da Nang, Hai Phong, Can Tho, Hue, Nha Trang, Da Lat and Phu Quoc.
We used Vietnam Airlines to fly from Danang to Dalat at the last minute for 1,280,000 VND ($58) per person. This could be even lower if we had booked in advance. It was around twice the cost of taking the train and connecting bus but saved us over 16 hours of travel time and a loss of sleep.
The website 12GoAsia comes in handy for comparing and booking airfares across Southeast Asia to find you the cheapest or most convenient option. It will also link you up with rail and bus travel for an all in one travel option for Vietnam.
Boat
Most boat travel you encounter will be more for tourism purposes than to get anywhere fast. For example, there are boat trips along the Perfume River in Hue to see the Imperial Tombs of the former emperors of Vietnam.
The most popular boat trip is around the Ha Long Bay area in the north of Vietnam. Here you can take a short boat trip to stay on board for several days with food and drink provided. Do your research beforehand as there are many reports of poor value cruises or deceptive booking agents.
We opted instead to take the public ferry to Cat Ba Island from the mainland and our tickets cost 70,000 VND ($3.15 USD) each for a one-way trip.
Rail
Vietnam has a decent rail network which stretches the full length of the country. Originally built by the French, it has finally recently started to receive some much-needed investment and improvements.
We found it to be the most relaxing and straightforward way to get between the main towns and cities in Vietnam. We took both daytime trains using 2nd class seats and a couple of different sleeper trains. All were comfortable and the scenery between Hue and Danang was particularly stunning where the tracks hug the rugged coastline (see the video below).
Top Tip: To check information and routes we used the excellent Seat61.com rail travel website. Then we booked our Vietnam train tickets using the super friendly 12GoAsia website. Book online and there's no need to print your tickets, just show them to the station staff before you board on your smartphone. No running around looking for a place to print anything. Nice.
Bus
Busses are the cheapest way to travel in Vietnam and connect up pretty much anywhere you'll want to go.
There are bigger coach style 'sleeper busses' which run between the major towns and cities. We found these a bit hit and miss and it is always best to go for the tourist version of these where possible for a bit more comfort.
Sleeper buses are built to accommodate the tiny locals. We both struggled at times with the tiny reclined seats and lack of legroom under the seat in front of you. You travel laying down which was a new experience for us and it can feel a bit claustrophobic at first. You'll soon get used to it and might even manage some sleep.
On some routes, there are busses with regular seats available so check before you book and then double-check again. If the person selling the ticket says 'same same', always beware!
On local bus routes, the cheapest option will be a minivan or smaller bus. We only took one of these but will never forget it I'm sure. They overfill the bus with way too many people and packages all squashed in and then proceed to drive as fast as possible between the frequent stops.
On the plus side, it's the cheapest way to travel and you'll usually get picked up and dropped off where you need to be, thus avoiding bus stations miles out of town.
If you don't want to be packed in like a sardine for hours then there are always VIP or tourist minivans available between many popular destinations too.
You can again use the friendly Vietnam travel website 12GoAsia to check times and prices for the major bus companies and show your tickets on your smartphone. Nice and simple.
Do I need a Visa for Vietnam?
As with many countries, the visa requirements and situation for entry into Vietnam is constantly changing. The information below is correct to the best of our knowledge (sometimes limited!). We always advise checking the embassy or your country's government travel websites for up-to-date info.
Can you get a Vietnam visa on arrival?
There is no visa on arrival at land border crossings!
People travelling on a passport from the 23 countries shown in the picture can enter Vietnam without a visa for the duration stated in brackets.
However, this only applies if arriving at one of the 3 international airports in HCMC (Saigon), Hanoi or Dalat.
If you're not from one of these countries or you want to stay longer than the limits stated above, you will need a visa to enter Vietnam.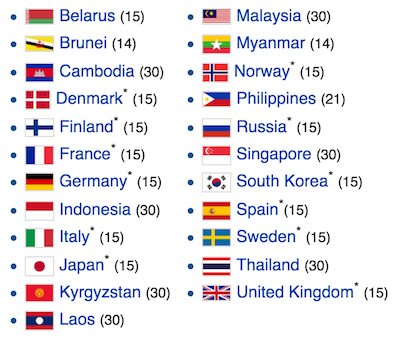 To be 100% sure, check your visa requirements with this handy iVisa checker below.
How do you get a visa for Vietnam?
There are two ways to obtain your Vietnam visa. You can either apply in advance or get in on arrival at specific airports.
Option 1: Get your visa in advance
Our preferred option is to obtain a visa in advance from the Vietnamese Embassy. This is the most cost-effective and secure way to get your visa. It can take several days or even weeks to process so make sure you plan ahead.
You will need to use this method if you plan to cross a land border into Vietnam as they can't process a visa on arrival and you'll be refused entry.
The costs vary depending on your passport and the embassy you're applying at so check directly with them first.
Option 2: Get your visa on arrival
Obtain a visa on arrival at one of the 3 international airports in HCMC (Saigon), Hanoi or Dalat. To do this you will need a 'letter of approval' first. This is the route we took due to time restrictions and it avoids embassy visits but costs more.
Approval letters are available from agencies in person or online, however, there are many reports of bogus agencies that are happy to steal your money in return for a fake letter.
We used vietnamvisacenter.org online and had no issues. They are possibly not the cheapest but the service was quick and secure with clear English instructions and emails sent.
How much does a Vietnam visa cost?
As an example, we paid $45 per approval letter for a 3-month visa on the 1-day service. Then when you arrive at the airport in Vietnam head over to the 'landing visa counter' to obtain your visa. This cost us another $25 each for the 'stamping fee', it was a very nice stamp though.
So you can see that it was $70 each for a 3-month tourist visa but would certainly have cost less if we had taken option 1 at an embassy. Plus you can't yet use this method if travelling via a land border.
Can you extend a Vietnam visa?
Officially it's not currently possible to extend a tourist visa once you are inside Vietnam. However, during our 1 month plus stay in Hoi An we learnt of a few local agents that could possibly extend tourist visas.
As it transpired there were local elections taking place so extensions were not possible but that was set to change a few weeks later. Once you are in Vietnam ask around and it may be possible to extend your visa, and if not, there's always the joy of a border run!
Health Issues in Vietnam
The number for emergency services in Vietnam is 115 from any local phone or cell phone.
Do you need travel insurance?
Make sure you are covered by good health insurance before visiting Vietnam. The country has both public and private hospitals and clinics. Foreigners will generally use the private option where available but it will need paying for.
Do you need injections for Vietnam?
Seek the advice of your healthcare provider before travelling to Vietnam, particularly if you are visiting more rural areas of the country. Getting vaccinated can take several weeks for a course of 2 or 3 injections if needed.
Do you need to take malaria tablets for Vietnam?
There is a low to no risk status for the majority of Vietnam but it's advisable to take precautions against insect bites. You can find a handy malaria map and further advice by following the link. Again, seek advice before you go as above.
Can you drink tap water in Vietnam?
Do not drink tap water anywhere in Vietnam. Also, be cautious with ice in drinks as this can be made from untreated tap water. Bottled water is cheap and available pretty much everywhere.
Is street food safe in Vietnam?
When eating out use your common sense and avoid anywhere that looks unclean or poorly maintained. We would encourage you to try some street food, very often these spots are cleaner than restaurants where the kitchen is hidden.
At many local food joints, you'll see some cut-up limes on the table. Wipe these over your forks or chopsticks to help sterilise them, it's what the locals do. Then don't forget to squeeze the remaining juice onto your food for even more flavour.
The two times we had a bad stomach bug in 3 months in Vietnam it was from a 'western-style' restaurant which says a lot. Higher prices do not always mean higher standards!
When is the Best Time to Visit Vietnam?
Vietnam is a long country, stretching from China down towards the equator, temperature and climate can vary dramatically. This means that there is no one ideal time to visit the whole country weather-wise.
Split Vietnam into 3 sections for the best weather months:
North (Hanoi, Sapa, Cat Ba Island) – October, November and December have less rain and clearer views. We were here in March and it was rather cold and misty.
Middle (Hue, Danang, Nha Trang) – January through to July for dry days with lower more comfortable temperatures.
South (Saigon, Mekong Delta) – November through to February/March are dry and slightly less hot.
Top Travel Tip: If you are travelling the whole length of the country light clothes will see you through most of it. Anything that will dry quickly is great, it can be hard to avoid the occasional storm. An umbrella can be useful too.
You might need warmer clothes for the northern areas. We picked up a couple of jackets in Hanoi for a few dollars each. Remember: don't overpack!